Reviews
BURIAL INVOCATION "Abiogenesis"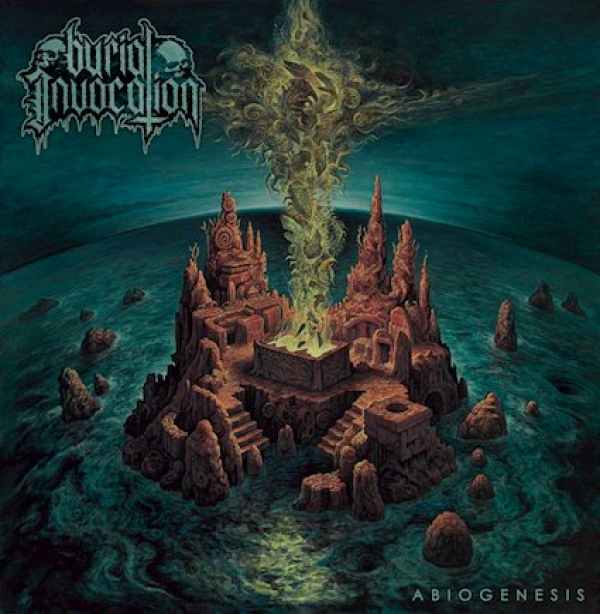 When we think about our history of metal, this album must be the most awaited, well-expected one. I'm talking about brand new "Abiogenesis" by Burial Invocation, which is a band originated from both Ankara and Kadıköy –now known as just from Ankara- and established in 2008. Having found by a "dream team", they have released an awesome EP named "Rituals of the Grotesque" in 2010, and a split named "Decomposing Serenades" with fellow Japanese death/doom metal band Anatomia in 2011 (without Mustafa Gürcalioğlu and Malik Çamlıca from that "dream-team"). After these wonderful records, the first full-length of this band became highly anticipated.
I have seen Burial Invocation in the end of 2017 with Krypts and after that concert, all news about that full-length have made me impatient. Especially, when album's 4th track "Phantasmagoric Transcendence" released by the record label Dark Descent Records, I was running wild and yelling "OMFG" at home. I was pulling for the day, 6th of July to come and finally, that day came and somehow, someway, I've listened to this masterpiece and I can tell you that this album will bury you and let you rot in 41 minutes of the breathtaking mystical journey.
When reviewed as to its musical aspects, Abiogenesis is more than a musical feast. Both styles of thrash metal or even punk influenced, fast-paced riffing and low-tempo burial riffing have returned from the 2010's EP with mystical melodies which can be felt more especially in low-tempo moments. Riffs and melodies are repeated less, thus it makes this album rich and tasty. From the lyrical perspective, this record refers to a hypothesis about the beginning of life named "Abiogenesis", that gives its name to the album, death, rotting in grave, occultism and anti-humanity. Furthermore, there is a wealthy use of words which makes this record more delicious. I want to say something about the last track, "Tenebrous Horizons", which has approximately 2 and a half minute of length and use of cello which reminds Venenum's debut record, Trance of Death's intro. It's a track recorded with an acoustic guitar and cello and it closes the book of "Abiogenesis" with dark, mystical melodies as predicted and expected.
Album was recorded with the same squad of 2011's split. The vocalist Mustafa Yıldız mesmerizes the listeners with his deep, powerful growls and Cihan Akün supports him well in this duty with mid-range screams. Drums are played by "Aberrant" Engin, the drummer known for his work in Engulfed, Diabolizer etc, which breaks the bones of the listener with his excellent performance. In the last song, the cello was played by Pınar Özşenol. But there is a musical genius that I must talk about, who played all guitar and bass parts wrote all the songs and lyrics and provided extra vocals, named Cihan Akün.
Abiogenesis was totally his work except for 3rd and 4th tracks. In 3rd track, Cihan co-worked with Engin for arrangement and in 4th track, there is a backing riff by band's old bass player Doğu. This fact is surprising when you think that this record may be a nominee for "this year's best death metal albums" list. In the future, the thing would make me happy will be a band established by Cihan and foreign death metal musicians, like Turkish/Danish death metal band Hyperdontia for example.
Dark Descent Records has done an excellent job with this album's production, all instruments can be heard clearly. On the other hand, sound maintains the burial effect that lets listener rot in a grave. The only flaw of production, Mustafa Yıldız's vocals are disturbingly thick and obscure sometimes. The painter who worked in the making of cover artwork made me crazy when I heard his name, he was Dan Seagrave, the painter of many legendary death metal album covers.
The band is touring Europe now with a line-up contains Cihan as guitarist/vocalist (he has all vocal duties now), Engin as a drummer, Can Yakay Darbaz (known from Diabolizer) as second guitarist and Ozan Yıldırım (known from Raven Woods and The Sarcophagus) as bassist and if you encounter them, please don't miss and attend their concert to be charmed, buried and then rotted by their breathtaking performance. Every death metal lover should own this record and as I stated before, it's a nominee for being one of the best death metal albums of 2018.
9,50/10