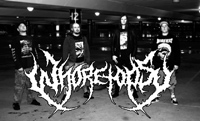 Australian slamsters WHORETOPSY recently inked a deal with Torture Music Records for the release of their upcoming debut full-length album, "They Did Unspeakable Things", due to hit stores in late 2011.
This is not only a first-timer for the band but also for the record label, seeing how this will be the first official Torture Music Records release.
Torture Music Records head and founder Janis has the following to say about the signing:
"I'm absolutely keen to work with these guys! I remember listening to their demo just a few months ago and was immediately blown away by how mature (and fucking brutal!) they sounded, albeit being together as a band just since early 2011. The new tracks that I've heard so far suggest that this upcoming album is going to kick some serious ass too, so y'all better prepare yourselves!"
WHORETOPSY vocalist Matt Storma (Insidious Torture) adds:
"This year has been a fucking whirlwind. Since the demo was released the response has been massive!
When Janis contacted us showing a great deal of interest we couldn't believe it. We are looking forward to working with him and TMR. Keep an eye on this sick label as its roster of brutal acts grows!
As for the label's first release…..Whoretopsy 'They Did Unspeakable Things'…..Prepare yourselves for some nasty as fuck Aussie slam death!"
Make sure to visit the following links and check back regularly for updates: