Featured
Interviews
Devastator (U.K.) Interview
Devastator is a total devastating old school thrash metal band and I hooked up with guitar player Richard Bateman for this interview: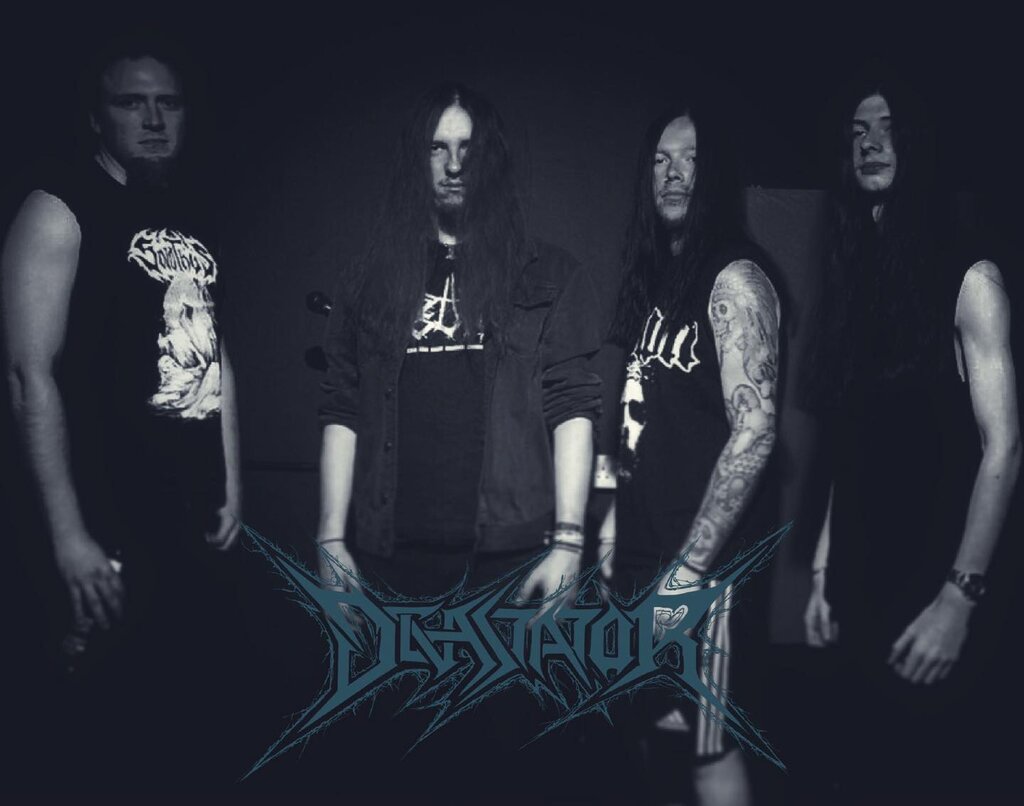 Where were you born and where did you grow up?
RB: I was born in Derby, England in 1997; I grew up in a rural area surrounded by a lot of diverse and friendly people!
So what sort of kid were you growing up? Did you have a lot of friends or were you more of a loner?
RB: I was a little bit of a dickhead growing up, I'd get into trouble a lot and I hung around the wrong crowd a lot of the time just to fit in. I always had aspirations to achieve something in life, whether that be in music or something else, obviously at the time my future aspirations weren't fully realized.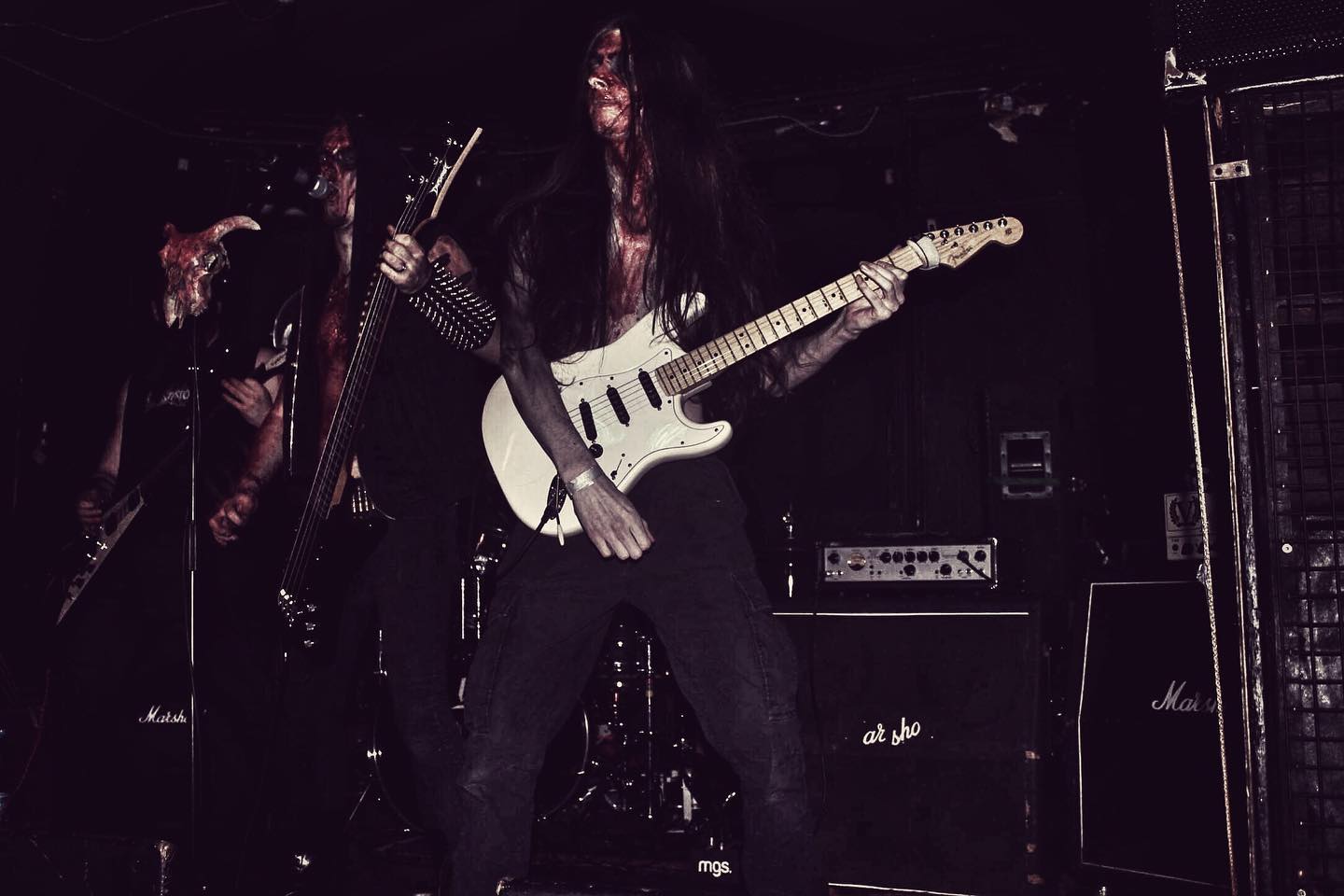 Now, what sort of kid were you as a teenager? Did you like any type of sports or did you start to like music a lot during this time?
RB: As a teenager, I was always into football and basketball, those were the sports I loved to play at school and I continued to love watching basketball especially – go Lakers! I started really getting into my own world of music around 11 when I started playing the guitar, my gateway bands were a lot of classic rock like AC/DC and deep purple
So now, how did you come to discover the heavier side of music? Was it one person or a bunch of them?
RB: Well my introduction to heavier music was probably one of the more…' unique' instances. I was watching robot chicken on YouTube and the advert for the show Metalocalypse came on, the song that played over the footage was a combination of 'fan song' and the 'detheme' and at the age of 12, it was the most amazing thing I'd ever heard! Dethklok has since been my all-time favourite band and then the snowball effect happened! I got into bands such as Cannibal Corpse, Autopsy, Venom etc!
So when did you decide to pick up and play the guitar and why not bass or drums?
RB: I was about 9 or 10 and I and my mum were clearing a load of stuff in my grandma's loft when I came across a beaten old nylon acoustic, and it was almost like the briefcase in pulp fiction, the minute I laid my eyes on it – it was almost a calling! I messed around for a while until my parents decided to get me lessons from the school guitar teacher and the ball started to roll from there! I'm not sure why I didn't choose any other instrument, it seems guitar has been the most prolific musical instrument in my life, I'd do air guitar stuff when I was little, I always found the aesthetics rather appealing! Wish I could say 'to get girls' but that's not really the case these days, my girlfriend likes my guitar playing so I guess that's a win aha!
So at what time did you actual toy around with joining or forming a band of your own?
RB: I was in school and my best friend at the time was a guy called, Tom Meehan – who is still one of my most cherished friends. He was also a guitarist and we had a friendly competition going on! He'd show me a new trick and I would immediately be like 'I've got to top that!' Soon we started playing with other people who played instruments in our school and we formed a very shit band that lasted about 2 rehearsals in my room aha! Throughout the years we would both find other musicians to try and form a band which had both of us in – unfortunately that never happened but he's gone on to have his own band called Bloodrust, which is a really cool groove band and I'm obviously with devastator!
So tell me the forming of the band? Did you go through many members early on before settling on a steady line-up, which is the same 4 members from the get-go.
RB: So the bands earliest incarnation – from what I can remember, happened in 2016. I was writing an instrumental guitar album, jack and Chris was in the band Hellrazor, which was a party thrash band that had quite a good following in the local scene and then Tom was the frontman and bassist for the Swedish death metal worship band, Repulsive. Jack caught wind of one of my videos of me playing the part of my album and asked if I was interested in starting a band, he later asked Tom if he wanted to be our bassist. The band consisted of myself, Tom, jack and jacks cousin, Joe. We messed around but never really took anything too seriously as we all had other bands and projects going on. As time progressed, bands fell through and we started to take devastator more seriously, but this time as a three-piece. We had our debut show in February 2018. Chris attended the show and was asked to join shortly after as it gave us more flexibility as a band to stretch our harmonic palette! And thus Devastator is four guys who've been playing for years and only now decided to make something of it aha!
So how long were you together as a band before you released your self-titled demo which dropped in 2018? How was it going into the studio for the 1st time as this band? Were the songs ready to go pretty much when you recorded them?
RB: Before the self-titled demo, we had been together for about 8 months to a year. Obviously, the lineup had slightly altered with the new addition of Chris in the band, but that didn't hinder anything. For the demo, we did everything ourselves, which is why it has a certain DIY quality to it aha! All the songs on the demo were songs we had been playing since the beginning apart from a few we decided to leave for the first professional Release, so all we're very much songs we could perform with our eyes closed ha-ha! Everything was recorded in three separate locations – All guitars were recorded at my house using cab impulses with a two notes torpedo. Tom recorded bass and vocals and his place and the drums were a combination of jack playing his electric drum kit and using superior drummer samples to make it sound half decent. The funny story is that whilst recording the drums, Jack was also watching the World Cup and just towards the end of, I believe hail death? Someone scored and jack slightly altered his pace with excitement ha-ha!
Too funny. Now obviously when we say demo these days, it is not like a cassette a band would record to sell at shows or send to print zines to get reviews and build up a following. What did you exactly do with this "demo" you recorded?
RB: With demos back in the day, it was all about the tape trade community – that's how most bands got around. But, with us, we basically did the demo so people had music to put to the name. In an age where social media is the main way people find new music, you need music to gain more traction. Hence why we recorded the demo. We did do some very DIY CDs to sell at shows for…£1? I think aha just so people could have cheap physical media before the actual release. I did do a mock cassette for the demo, it was cheaply done and it was very unprofessional but I guess I can say I have the only devastator demo cassette in existence aha!
Now in 2019, came a bootleg called "Darkness over Derby – Live in Derby Bootleg (2017-2019)". Obviously, I am sure by now you know about such a release. How did it feel to have a "bootleg" release on the band or did you sort of have a hand in it?
RB: We definitely had a hand in the bootleg haha! We saw a rise in videoed performances of different songs and decided to release them as a live bootleg – obviously mixed to enhance anything we felt needed enhancing: volume, eq etc. The thought process was to keep giving people something to keep them on the edge of their seats in anticipation of the actual release. The bootleg was comprised of old and – at this point – new, but road warns songs like 'Death Slut' and 'Spiritual Warfare'. Out the gate, we knew we weren't going to charge people for it as it's kind of a scam to charge people for something that not the greatest of quality. We just saw it as another way to hype the release a bit more ha-ha!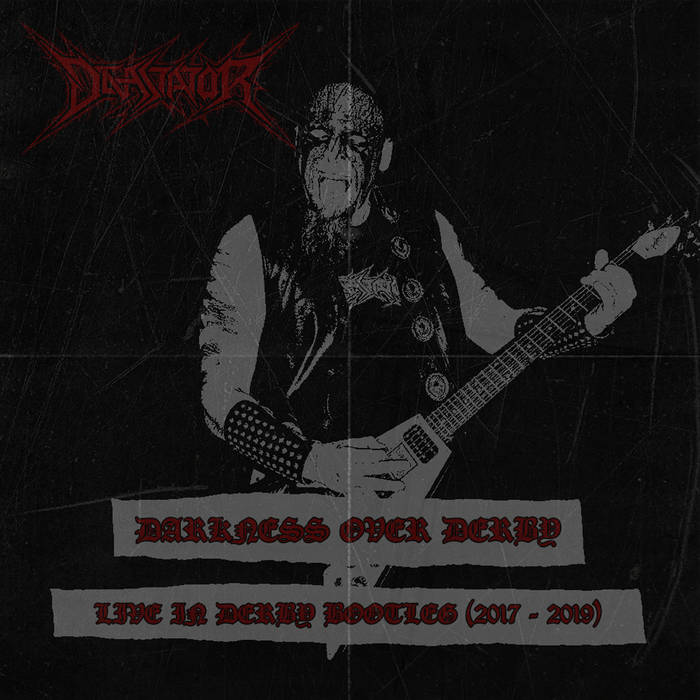 That's too funny. Now when did you begin to start to work on songs for your newest release, which is called "Baptised in Blasphemy" on Clobber Records? Who do the songwriting for the band and the lyrics?
RB: Songwriting for Baptised has basically been the focus of the last 2 years. All songs were written, rehearsed and then road-tested, there are some songs that didn't make it onto the album because they either needed some more TLC or we thought were perhaps, weaker in some respect to the other songs. On Baptised, everything bar one song was written by Tom (Vocals/Bass) – he's honestly a songwriting monster! I envy is compositional skills ha-ha! The one song on the album that was a collaboration between myself and Chris was 'Spiritual Warfare'. Chris came round my house one day and was like 'I've got some songs to show you!' And he started playing the opening riff to what would become 'Spiritual'. The basic skeleton of the song needed some word and things needed reworking just to work alongside our other songs. The main thing I can remember I contributed to was changing the chorus from just static chords to alternate picked to add more dynamic content to the song! Chris also said he wanted to add a harmony part between both guitars which, I was totally on board with! I can't go into much detail about the thought process behind the writing of the songs as that's a question for Tom and Chris, but when it came to solos, I was listening to a lot of Marty Friedman and Jason Becker stuff along with some fusion guys like, Greg Howe and Guthrie Govan which can definitely be heard on the track 'Howling Night' – I also snuck a little John Coltrane lick in there, which being a jazz guy definitely made me happy ha-ha!
So did you know what studio you were going in as the coming of the songs were coming together? How was it in the studio for this release and how long were you in it for?
RB: The studio we went with was, RatCat studios run by a guy called Nat Webb, who's a super nice guy and a really cool guy to work with! Jack and Chris had worked with him on the Hellrazor EP, 'Bang Your Head' – So they had an idea of how Nat worked and what the experience would be like! The initial studio time was three days! Drums and Bass would be recorded first, then guitars and finally Vocals and solos. However, due to a storm happening on day three, Tom was unable to travel up and get the vocals done. So, he had to rebook and get them done without anyone there. Throughout most of the process, we were all together in the same room, making sure we weren't fucking up anything and basically having a laugh! There's some footage of the recording process on our YouTube channel, Devastator UK. This just shows some of the time in the studio alongside what we were also doing that weekend, which was mainly playing shows ha-ha!
Now obviously I would say you're happy with the finished product. Now that it is out, what has been the early feedback on it so far?
RB: The feedback has been really good so far, any criticism we have, we learn from it! Honestly, this is all a dream come true for us, never in a million years did I think that by the age of 22 I'd have an album out! It's a very surreal experience hearing people praise something I'm on ha-ha! If 14 year old me could see this, I think I'd flip ha-ha! We're honestly so proud of what we've managed to pull off with Baptised. This has been something that's been long overdue but in my opinion, worth the wait – we just hope everyone else likes it as much as we do and even if you don't like it, that's fine, let us know and we can learn from it and better ourselves as musicians and songwriters. If anything, constructive criticism is the key to getting better ha-ha!
How has it been working with Clobber Records so far? How long is your record deal with them?
RB: Oh, man we've had the fucking gold star treatment! Those guys have gone above and beyond for us and we couldn't be anymore thankful for their continued efforts to push and promote the album! Clobber and Imperative promotions are the GOATs! As it stands Baptised and Devastator has a one year contract with Clobber, after that years up we can either renew the contract or go somewhere else!
So now have you played live a lot? How do you feel you are as a live band? What are some of the bands you have shared the stage with?
RB: Due to covid we only played a hand full of shows at the start of the year whilst simultaneously recording the album. It's been a pretty shit year for the music industry and everyone else in the world, being isolated, not being able to see family and obviously, the multiple deaths that have happened across the world – 2020 has been a bastard of a year! Throughout the years we've shared the stage with some phenomenal bands, some were proud to call our friends like the boys in Abduction and Hellfekted! We've also shared the stage with fellow clobber artists Shadowflag and Wolvencrown who are also amazing bands and super nice guys! Honestly, I can't praise the bands enough who've put us on their bills or supported us, they're all amazing and the guys and gals are outstanding people as well! Also, want to shout out beyond your design and bury the traitor both bands are worth checking out!
So now what are your expectations for this new release? Would you like to do any type of touring at all?
RB: Of course! We're really itching to get back out on the road! We're a gig band, we live on the road and we feel at home on the stage! We have a few shows potentially lined up for next year, but nothing is set in stone due to coronavirus.
How are you guys handling things as a band with this piece of shit virus holding everyone at bay?
RB: We're handling it as best we can. There's a fair few things we have focused on, mainly surrounding the release of Baptised, but we're also discussing additional stage props, gear, sound and overall aesthetic! Given the circumstances surrounding the virus, we've basically had to make due! It's not great by any means and our hearts go out to those affected by the virus!
Horns up for doing this interview, any last words to wrap this up?
RB: Thank you for having me and putting up with my waffle dude! Erm, shoutouts to my parents, big Ralph and Saucy Shaz! Baptised in Blasphemy is out now on Clobber records, iTunes, Amazon the lot! Merch is on sale at the devastator Bandcamp and big ups to you good sir for conducting this interview! Cheers!