Chats
News
Interview With Jeremiah Reale of Damnability
Damnability was a band I knew quite well back in the late 80s as we were both from South Jersey and I saw them live many times. Seeing how Thrashback Records was going to be putting their 3 demos onto CD, I thought what better time to contact guitarist/singer Jeremiah Reale for a brief chat.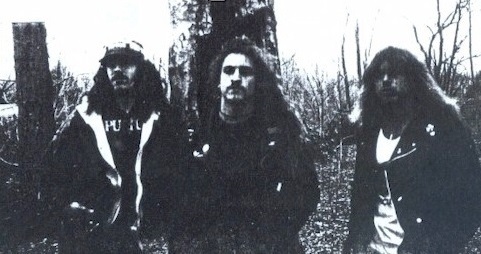 Do you know if an original copy of one of your demos goes for $200 on eBay?
JR: That's crazy man.
What do you think of your music being out on CD after all these years?
JR: I'm happy people can hear it. I think it's great.
So how did the forming of Damnability come about? Did any of you come from other bands?
JR: We were from South Jersey (NJ) it was 1988. I had "mad at the world" on the back of my jacket and was looking for a drummer. My brother was bass player Tom Reale. I had two auditions: the glam guy and the psycho-reform student. I went with the reform kid. I showed up with my legs Paul n jcm 800 Marshall stack old Ibanez tube screamer and crybaby wawa. I went to Brian Kennedy's house to the attic, where he had a double bass Ludwig set with all the trimmings n n looked on the wall behind him apparently squirted w a string all over the wall …he had just gotten out of jail. Without any hesitation, I plugged in and started riffing. He fell in line with a Slayer-style double bass drum that I could have read like a skateboard downhill in Sante Cruz in the 80s. We locked in like a fist in a glove.
So what made you pick up a guitar and also sing?
JR: I saw Kiss in 1979. I was 8 years old. It was their last year of wearing the make-up. Judas Priest opened. It was at the Philadelphia Spectrum.
How did you come up with the band name?
JR: Thesaurus the av/ Bility to be VA. Bad. Found it in a thesaurus
So when did you start to write songs for your 1st demo, which came out in 1989?
JR: We wrote songs the first day of our first gig, which was a month later at Full Circle Record store across from my high school where we winded up selling 500 cassette demos for 3 dollars a piece and followed up at the end of the year with a gig at the Empire Rock Club with Faith or Fear a south jersey based band doing a Combat Records MTV video shooting to begin a tour with Sepultura at the age 17.
In Voorhees, NJ, Pine Hill was our studio. G Willikers in Pennsauken, NJ was our main venue. Sex, drugs, thrash and tattoos were our inspirations.
That must have been a great feeling for you guys, that Empire Rock Club show.
JS: I was blessed to play in front of a full house with 500 + people diving and slam dancing, hot hair metal bitches in the front row and a roaring crowd. It had great sound n the band was on point. After that, we took the reigns of the scene and recorded and toured the tri-state area opening for Armored Saint, Wrathchild America, and Sepulveda.
Tell me about this big metal bash you had in your backyard at the time.
JR: We had Biohazard including them in our South Jersey metal bash in our backyard in Blackwood, NJ where Scott from Combat Records and Maze Records and reps travelled to see our display. Dominance (ex-anvil bitch). Faith or Fear and other openers at the time. Played all day n sold the liquor store out of booze that was epic. It launched the band to local fame and also my tattoo shop at the time. Damnability tattoo that became successful "Sick Creations" and did Woodstock 99 …you can find these videos online.
So when happened after the backyard party?
JR: The band continued to lay down sick-ass dynamic thrash with the problem of Brian Kennedy going to jail and fuckin up more good opportunities than not. In 1992 we recorded a new polished tighter sound and I began writing the lyrics we had a record deal on the tile wIth King Biscuit Flower Records with no funding so I turned it down and did some mushrooms ND decided to go south. Two weeks later I loaded up a U-Haul and went down to Ft. Lauderdale, FL with my brother Tom and my new stripper girlfriend. I stayed for one year and refined my playing while studying blues with big Bob from Big Bob, the Blue Tornados band. It was a revolution.
Tell me about this battle of the bands at Lamour's in Brooklyn, NY you played.
JR: Yes we beat out 11 NY bands and won $1000 dollars and as we were trying to get out of town we were attacked by bricks being thrown at our bus. It did $430 dollars of damage to our bus and the bus pulled away before we even had all our people on it. Scott Davis our roadie and I had to run back inside the club and get the rest of our people out of there and get everyone back on the bus. It was very dangerous.
So what broke up the band?
JR: Brian kept going to jailbroke up the band.
So at this point, Damnability was done and a new band formed out of its ashes correct?
JR: Yes. I flew back to NJ to form "6 To The Universe, a 6-piece band that recorded for 7 years. Deriving the from the Jimi Hendrix album "9 to the Universe"…so if 6 was 9. That is what Jimi said. So we said 9 is 6. So the name stuck. We packed houses for the next couple of years doing TV concert specials. We opened for a government mule with Warren Haynes from the Allman Brothers. Did a commercial for Kevin Bacon. And held our own 2000 attendant festival. Freedom Fest in NJ. The days turned into marriage babies and drugs n booze n divorce and now rebirth ….we will be releasing the Reale family album soon.
Notes: I am sure by listening to any songs on these 3 demos on it, you will hear that Damanability was no "generic" or "run of the mill thrash band" either. Sit back and enjoy the music. They should have been way bigger than they were.
On a footnote, drummer Brian Kennedy could have played the drums for Overkill at the same time Merritt Gant (who was in the local south jersey band Drastic Measures at the time) when he joined Overkill, but Brian turned them down. Merritt also was in Faith or Fear as well in 1990 and 2009.