Los Angeles thrashers Hexen have officially revealed their upcoming second album, titled Being And Nothingness.
Recorded, mixed and mastered at Vivid Tone Recording Studio (Lividity, Guthrie Govan, etc.) by producer Rich Bruce, the sonic onslaught of Being And Nothingness sees the band going toward a far more mature, comprehensive and thorough voyage of metal musicality, thus distancing themselves from being just another run-of-the-mill revival band.
To perfectly compliment the visual aspects of Being And Nothingness, Hexen has engaged the hand-painted mastery of celebrated extreme metal illustrator Kristian Wahlain/Necrolord (King Diamond, Dissection, Emperor, etc.) for the album artwork cover.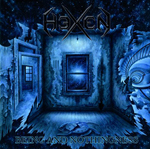 Tracklist:
01. Macrocosm
02. Grave New World
03. Defcon Rising
04. Private Hell
05. Walk As Many, Stand As One
06. Stream Of Unconsciousness
07. Indefinite Archetype
08. The Nescient
09. Nocturne