News
Female Death Metal band SISTERS OF SUFFOCATION released new ep "Brutal Queen"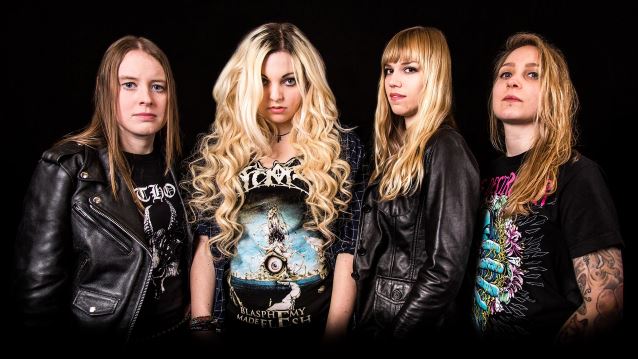 Dutch all-female Dutch death/black metal band SISTERS OF SUFFOCATION released its debut five-song EP, "Brutal Queen", on April 22. The effort combines technical, old-school death metal with great hooklines and elements of black metal, according to a press release.
Founded in 2014 in Eidhoven, SISTERS OF SUFFOCATION managed very quickly to establish an amazing live reputation and got lots of invitations from venues and smaller festivals. This was noticed by Eindhoven Metal Meeting, who gave them a chance to present themselves for a bigger audience.
It has always been a dream of vocalist Els Prins to start an all-female death metal band, but she didn't seem to be able find the right group of girls to make this dream reality — that is, until she met guitarist Simone van Straten. Sharing a love for extreme music, they recruited drummer Amber de Buijzer and bass player Marjolein van den Nieuwenhuizen and started rehearsing. They released their first single, "Boundaries", in July 2014 and played their first show one month later. In May 2015, Marjolein exited the band and was replaced by Puck Wildschut.
Source: Blabbermouth and Band Press Release
Watch out their new official video link below !