News
BEHEMOTH reveals new book excerpts via Loudwire!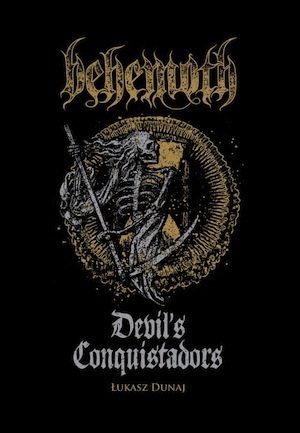 "Devil's Conquistadors" out soon on Metal Blade!
Written by Lukasz Dunaj, the gorgeous, meticulously-designed 490-page, hardcover tome takes an in-depth look at the history of the events that materially influenced the band, their music, their ultimate rise to the upper echelon of metal and becoming a household name in their native homeland of Poland. "Behemoth: Devil's Conquistadors" includes quotes and anecdotes from current and former BEHEMOTH members as well as interviews with Tomas Krajewski, Rob Darken, Graal, Havok, vintage, never-before-seen photos, flyers, lyric sheets and so much more.
Said vocalist/guitarist Nergal, "BEHEMOTH's biography is out next week on Metal Blade Records! It took us years to complete this project. It includes hundreds of rare photos and has 'The Satanist' chapter too! Beautifully packaged with a thick cover! Hope you will all dig it… It's a crucial part of my life here written in 500 pages!"
Following last week's teaser from Revolver Magazine, today Loudwire revels in the book's release with additional excerpts, this time revisiting the "…From The Pagan Vastlands" demo photo shoot where Nergal nearly burned his face off. Read all about it HERE!
Pre-order the book now at either http://www.emp.de or our ebay-store.
There's also a book/shirt bundle available at both stores!