Swedish Black Metal metallers SVARTSYN have revealed details of their forthcoming full-length album entitled "Black Testament". The release will hit the shops on the 28th of May in Europe and 11th of June in North America.
According to the band founder and mastermind – Ornias – "Black Testament" can be described as a "sinister m ix between Destruction Of Man (2003) and Timeless Reign (2007) releases." He also added: "it's a journey through my spiritual darkness and death."
The album was recorded at Mortsella Studio, Sweden. A short series of video clips* documenting the recording process (vocals, guitars and drums) can be viewed below.
Drums:
Guitars:
Vocals: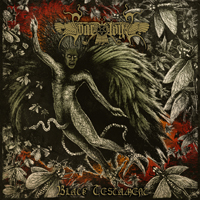 "Bla ck Testament" will consist of 7 original tracks and be available on CD, LP (first 100 copies available on a coloured vinyl) and digital.
Tracklist:
01. Revelation in the waters
02. Venom of the underworld
03. Demoness with seven names
04. Carving a temple
05. Eyes of the earth
06. Rising beast
07. Black testament