Pennsylvania-based black/death metallers SATHANAS will enter 905 Studios in Ambridge, Pensylvania in April to begin recording their new album, "La Hora De Lucifer", for a tentative late 2010 release. The CD artwork will be created by acclaimed Belgian artist Kris Verwimp (ABSU, BLACKGUARD, DESASTER, LORD BELIAL, MOONSORROW, THYRFING). According to SATHANAS guitarist/vocalist Paul Tucker, the forthcoming album will be the band's most aggressive and best release to date.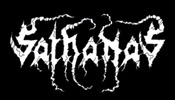 Tracklist:
01.Angels Forsaken
02.La Hora De Lucifer
03.Forged In Eternal Fire
04.Engraved In The Book Of Death
05.Battle Of Bewitchment
06.Darkconjurings
07.Hammer Of Demons
08.Nocturnal Reign
09.Blackest Hate
SATHANAS is seeking suitable labels to release "La Hora De Lucifer" in Europe, Asia and South America.