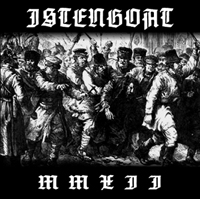 From Santiago, Chile, comes yet another amazing Death Metal act in the shape of ISTENGOAT. Formed at the begining of 2011 with the main goal of creating a simple, direct & powerful sound which can transmit the sensation of being infront of a tornado.
The band has recently teamed up with Swedish underground label, BLOOD HARVEST, for the vinyl release of the bands upcoming debute album titled "Atlas Shrugged". Recording will commence in July, 2013.
The CD edition will be handled in S. America through Soul Erazer (Brazil).
In the meantime, as an introduction, BLOOD HARVEST will re-release ISTENGOAT's sold-out debut from 2012, "MMXII" on a limited 7″EP vinyl edition. The band has just finished assembling the last parts for the 7″EP layout and it's been sent of to press.
Release date to be announced soon!