News
DISCHARGE: Part Two Of 'End Of Days' Track-By-Track Breakdown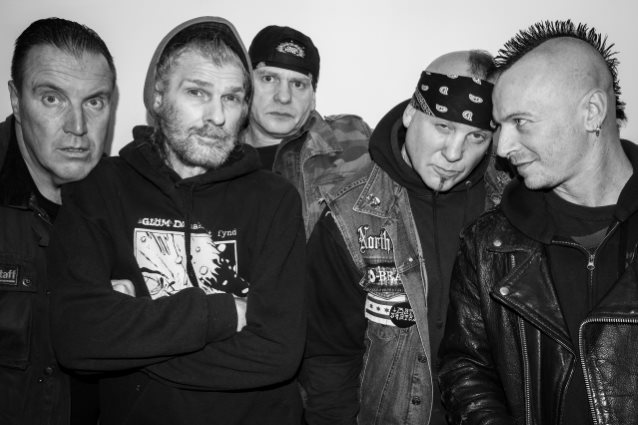 U.K.-based crust legends DISCHARGE announced their signing to Nuclear Blast late last year. After the release of their "New World Order" EP, the time has come to unleash their new studio album (their Nuclear Blast debut) on an unsuspecting world. It is titled "End Of Days" and will be made available on April 29.
The second track-by-track breakdown video for "End Of Days" can be seen below.
DISCHARGE commented: "So here it is, the 'End Of Days'… Fifteen brand-new tracks.
"The first day we entered the studio we kept hearing all over the media that there was a blood moon that night, and certain religious groups were reporting that it was the 'end of days.' It seemed a natural title for the album given the lyrical content of the songs and the state of the world today, so it stuck with us.
"Regression has been the basis of this album, opposed to 'progression.' We really cut it down to basics on this one, quite a few songs under two minutes long… we're all really pleased with it. Play loud!"
"End Of Days" track listing:
01. New World Order
02. Raped And Pillaged
03. End Of Days
04. The Broken Law
05. False Flag Entertainment
06. Meet Your Maker
07. Hatebomb
08. It Can't Happen Here
09. Infected
10. Killing Yourself To Live
11. Looking At Pictures Of Genocide
12. Hung Drawn And Quartered
13. Population Control
14. The Terror Alert
15. Accessories By Molotov (Part 2)