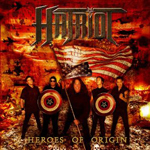 Massacre Records – 2013 – U.S.A.
What is doing an ex-EXODUS member when he wants to continue making music? He takes a snap of his two children and two guitarists and founds his own band. This happens with HATRIOT. The Americans published in January 2013 their first full-length cd "Heroes Of Origin" via Massacre Records.
Here is offered Old School Thrash Metal to the listener. The all in all ten songs rsound with an incredible speed off my loudspeakers. Thereby is quite renounced of musical excursions in other genres. "Heroes Of Origin" offers unblemished Thrash Metal which come across fresh and energetic. Reinforced by typical Thrash Metal riffs which still more highlight the Old School character the songs are anything but antiquated or even square. HATRIOT atomize that much energy and joy of playing that this would be downright sufficient for two cds. The expressive vocals of vocalist Zetro as an old hand in the matter of Thrash Metal is thereby still the icing on the cake. You can hear here blunt the EXODUS past some band members without even ending as a cover band. Aggressiveness and adrenaline pure implemented in notes. Productional not everything runs smoothly here, but this carries not so much weight here. It maybe still reinforces the native character of the cd. HATRIOT are successful with "Heroes Of Origin" to transport the spirit of old Thrash Metal records into the year 2013 and nevertheless to sound independent. Check out HATRIOT. You won't regret it.