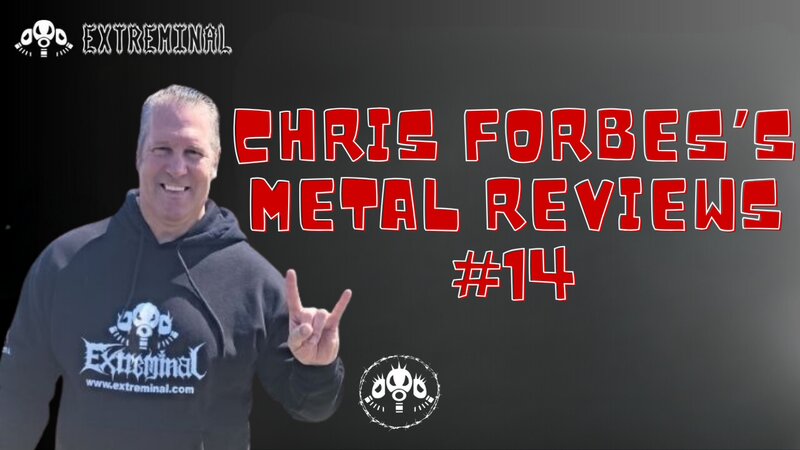 Well, it is time for another round of the good, the bad, and the ugly ha ha. Within my latest reviews, you will find some good, great, and horrible bands. Nowadays it is harder to find the good and even great bands with # 1, so many bands, and # 2 so many labels releasing stuff. Please keep in mind, I am not a fan of Pantera Jr. type of bands as they suck # 1, and are so generic it isn't funny. Bands like Ghost are horrible too. Add nothing to the scene. As I have said, I don't need you to be original, just bring something to the table. Make me want to headbang, and play air guitar or drums.
Take care, and enjoy my reviews as metal to the death!!!
Chris
LACERATED/The Vile Doman(Self Released)
Typical uninspired death metal that does nothing for me. Nothing in the music, the riffing, or the vocals was anything special. Just another of many that play below-average death metal that just has me cmon hit me with that killer riff and nothing came.
THRONE OF FLESH/Dust (Great Dane Records)
A total old-school death metal attack. Not the most original-sounding band, but they get the job done. Sick vocals and some Swedish meets Florida death metal sounds had me smiling. A wicked speed attack of Death Metal too. Production is solid and good and if you like death metal I can't see why you wouldn't want to check these guys out as they more than get the job done.
Plague Bearer – Summoning Apocalyptic Devastation (Nameless Grave Records)
Average at best death metal. The songs I felt weren't strong with memorable riffs and nothing caught my ear. The tunes just flew by and nothing stood out. The singer was decent, but the music wasn't and just fell flat and you will grow bored soon after.
BLOOD STAR/First Sighting (Shadow Kingdom)
Just a total kick-ass attack of pure heavy metal with an awesome singer. Riffs that are big-time catchy and memorable and I was nodding along with the tunes and with the faster stuff playing air guitar. Wicked guitar solos too and bands like this keep the fists of heavy metal alive metal fans. Very strong debut my friends.
GUTTED CHRIST/Hail And Kill (CDN Records)
Yes, this band sounds a lot like Cannibal Corpse, but they aren't bad. Decent death metal vocals and some tasteful riffing and not just a total C.C rip-off band like so many others are. The vocals are what makes this different as they are just generic growls of nothing. One of the better death metal bands making the rounds for sure.
EVIL BRAIN TASTE/Album Number Two (Self-Released)
I reviewed these guys back in 2019 for Metal Core and here they are back once again. Wow, this is quite an album and is very different too. Sort of an industrial death metal band of sorts and I love it. Great strong vocals and tunes on this. A label should pick these guys up as they are doing something new and fresh. Catchy riffs and strong tunes will anyone over. Great band.
THE WRATH/Pedal To The Metal (Arkeyn Steel Records)
Yes, yes, yes. A totally incredible power metal/heavy metal attack with great vocals and incredible music. The singer has such a powerful voice and sings all the tunes with passion and fury big time. Tunes are catchy numbers and are fist-banging tunes not to be missed. Easily one of the best releases of the year.
TYR/Of Law And War (Arkeyn Steel Records)
More classic metal from this label and this band also kick ass. A pure metal attack with the leather studs on and the denim jacket and the fists up in the air screaming "metal, metal". Tunes are a metal lover's dream and the singer with his big strong powerful voice leads the attack. It will not be long until that neck starts moving to the insane riffs that only this band can deliver. Do you want metal as good as it gets? Look no further and check these guys out dammit.
SACRILEGION/From Which Nightmares Crawl (Chaos Records)
Typical, decent at best, old-school death metal that wasn't anything to write home about. The music just doesn't excite me much as it is the same ole who heard it a million times before Swedish death metal style. Now for those who have not a bunch of these styles of bands before, you'll like this, for me, I just got bored quickly.
ENCRYPTMENT/Dödens födsel (Nuclear Winter)
Bone crushing death metal with some awesome vocals, sort of like Martin van Drunen. Music is fast and furious and it pounds and crushes you into the ground with a blasting dose of death metal the way it should be played. Fuckin riffs a plenty and they will have your fingers playing air guitar and neck moving right along as well. The cruddy guitar sound and the music, while mostly fast, slow down to allow you to catch your breath. Whew.
OLDSKULL/The Death Of Humanity (Nihilistic Holocaust)
Oh man, this is some brutal as fuck old-school death metal that destroyed my brain. Catchy as fuck, and heavy as fuck death metal riffing and crushing speed had me loving life. Vocals are spot on death metal style and when death metal is done like this and done right, this is just an onslaught of power and speed.
DEMONIZED/Abyss Vanguard (Osmose Productions)
After a long time, this band returns with a brand new EP, and what an EP it is. Bone-crushing, speed-blasting death metal the way it should be. Think Anglecorpse and early Morbid Angel. Lighting riffs that pound into your skull and oh that fuckin speed had me smiling from ear to ear. Brilliant vocals and a flawless production to boot. A perfect soundtrack to death metal the way it should be.
VILE RITUAL/Caverns of Occultic Hatred (Sentient Ruin)
F*ck I am getting crushed with all these brutal death metal bands and this is another one. This time it's a one-man band and a debut and this is one not to overlook. Think Incantation as you listen to this with the low vocals and the intense speed. This is not for the faint of heart or the weak fools. Good production also helps drive this as a must-hear. Death metal strikes again.
PHANTOM CORPORATION/Fallout (Supreme Chaos Records)
The good to great bands continue as this is another and they play a mix of thrash and death metal with death metal vocals. A total speed attack that ruined my neck and I loved it. Vocals were a pure death metal fans dream and oh this production is on fire. F*ck this is the attack of killer death metal bands and the riffs on this are so damn catchy and played with a fury and passion as well. Fantastic job this band did on this.
OBITUARY/Dying Of Everything (Replase Records)
This long-time death metal band returns and they return in style. The band plays faster than their early stuff, but I love the faster style and it is style total walls-to-wall pure death metal with John Tardy's sinister vocals growling out the sounds of death. Awesome production has everything clear and that guitar sound is unreal. I also recently saw the band live and they more than delivered the goods. This rules.
LOMOR/Perseverance of Sickness (Self-Released)
Finally some violent speedy thrash with some killer vocals. I thought of Havok and Kreator Vio-lence, Exodus, and oh those riffs tore through me big time. Not this nu metal or groove thrash either. Riffs and songs that are catchy and memorable as well. Nice thick production has those guitars at the front and oh is this thrash metal done right. Great job guys.
KRULLUR/Dead Live! (Horror Pain Gore Productions)
Sick, total, crusty hardcore crossover thrash. 8 tracks of complete speed that any Cryptic Slaughter fan would love and add in a Napalm Death cover and you get a wallop of a release. It's raw and nasty live recording just the way I like it. This is like early nasty punk as well. Great find Mike. Check this out. I loved it.
THYSIA/Islands in Cosmic Darkness (Chaos Records)
Some good solid death/black metal and it's more black metal in the vocals and death metal and black metal in the music. This just grew on me and really sunk in with me and I soon began to love it. The style of death/black they play is really good and cool and different and throw in some fantastic vocals and you hit a home run. I felt the pain in the vocals and his delivery just nailed it as most black metal bands fail, not this one.
SATANIKA/Horde Of Disgust (Osmose Productions)
This is a 2 piece band (there must be a session drummer on the release) and this apparently is songs re-recorded with a line-up. All I know is this is some wicked-fast thrash/death that dulled my skull. Riffing rattled and smashed my brain with a whirlwind of speed and power with vocals from hell that were from a tortured soul. Perfect production and this fucker has songs that are catchy and you will remember too. Prepare to be blown away.
DEPRAVED MURDER/Unethical Terrestrial Collapse (Comatose Music)
Just another bad tin can drumming-sounding death metal band that just sounds like a bad version of Suffocation and even Skinless, who I hate. This did nothing to impress me as the riffing was boring and generic and the singer was about the only good thing as at least he was different. But when those drums start it's like let me reach for the stop button. Tons of bands go for this sound it; 's god-awful and makes them sound so generic. Sorry, not for me.
MISANTHROPIK/Declaration of War (Misanthropik Records)
Very good and solid death metal from these guys. Wicked slabs of speed and guitar riffs of death just will pound your skull in. A whirlwind of power and no-nonsense death metal that hits hard and fast. The band mixes up the speed with some crushing slower parts that will melt you as well. A pure death metal treat in the vocals dept as well. Fantastic production makes this one band to check out.
DEMONIZED/Abyss Vanguard (Osmose Productions)
OMG, what a crushing display of death metal played totally old school and played the right way. Reminds me of the debut of Morbid Angel and that is a great thing in my book. Thunderous riffs and blazing speed along with torture death metal vocals make this an A plus in my book. Played with such feeling and passion, I can tell this isn't faked or forced. Osmose you have done it again. A fuckin unreal find
MOTÖRHEAD/Live At Montreux Jazz Festival 07 (BMG)
Well, Motorhead is not a jazz band ha ha, but what we have here is a nice 19 song set from Lemmy and the Boys. A nice mix of what you would expect from the oldies to some of the band's newer stuff from that time. I wish the songs didn't stop and then re pick up, but that is a minor complaint. Lemmy still sounds good and that bass sound is still there and this is a cool unreleased live release that belongs in your Motorhead collection.
EXSANGUINATION/Burial Rites (H.P.G.D.)
Simple no frills straight forward death metal with mostly mid-paced and some speedy parts as well. This isn't mid-blowing, but it doesn't suck either. It's a bit above average. I just prefer my death metal with some more speed attached to it. The singer has a nice thick growly voice and the band has a sick guitar sound to match. Worth checking out.
FALLEN ANGEL/Faith Fails (Divebomb Records)
Another gem found by this great label. This was a semi-progressive thrash band that released an album that came out in late 1992 as thrash was dead and buried and as you can imagine the album I'm sure sold nothing. Well here we are now and this album sees the light again along with the band's debut demo as well. I loved this as it is well well-crafted thrash, that yeah was a bit of prog, but never went over my head. Oh the singer has a great voice and he fit this band perfectly. Production was awesome and if your a fan of Voivod, Anacrusis, etc, you will go bonkers over this. Excellent all the way.
SILENCE/Vision (Divebomb Records)
It's kinda funny how this has a bit of Pantera's "Cowboy From Hell" sound to it, which actually isn't that bad of a release, it's the later releases where the band got really generic and horrible. This is crunchy fast thrash with a touch of groove to it. This again was one of those lost thrash bands that released a demo or demos in the last 80's and by the time they released something in the early 90's thrash was dead and buried. The fury and intensity of this total crushes and this is another of the many gems that Matt seems to find. I myself don't even remember the band, but I remember Ever Rat Records though
CYSTIC/Palace of Shadows (Chaos Records)
Musicwise this was pretty good as the band mixed in the speedy, almost blast-like parts with slow doomy Autopsy-like parts. It was the vocals I was not a big fan of. They are in the black metal vein and I just didn't like them and also I felt they seemed out of place as well. Again that's just me. The blast parts totally crush and the slow parts will send you straight to hell you bastards.
LETALIS/Bestia Oculta (Trauma Records)
First off you would never know it is a woman singing this and wow what an incredible set of pipes she has. She can get up there with the best of them. But what about the music you say? Rip roaring speed metal meets the NWOBHM is what I could think of as this played on. Yeah, I would say Agent Steel comes to mind as the band's bio said. Music is catchy and riffs are galore as well. The only negative thing is, that she needs to cut down a bit on the screams as at tikes they get a bit whiny. I realize with a voice like that you want to show it off, but back off just a bit, I'd say.
BLOOD STORM/Cursedness Of The Cinder Witch (Barbarian Wrath)
Barbarian Wrath has got themselves a huge winner here. Oh, the vocals send shivers down my spine. Chris never sounded better. The music is just a wicked, pounding display of death/black metal played in a great old-school way, I love it. Rip-roaring speed that just smashes the weak and frail. Just feeling and madness and fuckin hate. One of my favorites of the year.
JUDGEMENT/The Final Degree (Thrashback Records)
These South Jersey crossover thrashers finally see their demos on CD some 30 years after they came out. If you love bands such as the debut from The Crumbsuckers, Vicious Circle, DRI, and bands like that, you'll do backflips for this. Incredible sounding remaster job on this as well. A bunch of nice-sounding live tracks is an added bonus as well. Miss the 80's crossover scene? This band brings it back in a HUGE way trust me.
CEREMONIAL DEAY/The Crescent and The Cross (Ancient Urn Records)
Oh yes. Fast and furious old-school death metal that smashed me into nothing. Riffs that are catchy with fast and furious music to back it up. Powerful death metal vocals to boot that mix in perfectly with the music. Great production as well. Swedish death metal lives in the US. Well worth getting I promise you.
BLOOD OATH/Lost in an Eternal Silence (Caligari Records / Raise the Dead Records)
Boring state-of-the-art, nothing new or catchy death metal. It's like it's there and goes right on by with nothing memorable about it. The singer is decent and the production is good, but when you have flat music, that is not a good sign.
AEGRUS/Invoking the Abysmal Night (Osmose Productions)
Nope. This is the same ole black metal garbage of today with the fast-picking riffing and screechy vocals, though they weren't awful. The band sounds like any other black metal band on the market today, making them instantly forgettable
DESTABILIZER/Violence Is The Answer! (H.P.G.D.)
FINALLY a thrash band with some thrash metal in them, not that fake-a*s Pantera/Slipknot crap. Violence is the 1st band that crossed my mind as this played. A nice mix of mid-paced and speedy tracks made this an enjoyable listen no doubt. The band also has the shouted background vocals down pat and if you love Bay Area thrash, this is your band…
ABHORRENCY/Climax Of Disgusting Impurities (Sentient Ruin)
A brutal attack of death metal that will dull your senses. A whirlwind blaze of speed with touches of slow-down parts and then back to the 100 mph of speed to make you pay. Vocals from the pits of hell. Think of bands like Incantation, Immolation, and Morbid Angel as this plays and you smile from ear to ear as you know this band rules and you made a great selection buying this. Band crushes that weakness shit calling themselves death metal.
INCANTATION/Unholy Deification (Relapse Records)
The band, which has been around since the 80″s, unleashed their 13th full-length album. Founding member guitarist/vocalist John McEntee shows once again that he and the rest of the band can still churn out quality death metal. John hasn't taken his foot off the gas petal of fast, brutal death metal with a hell-like fury of vocals intensity. The guitar sound is unreal as always and the production totally rules. 13 albums in and John is not slowing down and nor should be. Another winner by this band.
PANSSARITUHO/Sanansaattaja (Sliptrick Records)
This band plays in my eyes and ears a generic form of thrash metal that quickly gets old. No songs caught my ears and nothing had me banging my head or even wanting to play guitar. The opening tune was just a horrible mid-paced number and the 2nd was a bit faster, but just fell flat as a pancake. This is not the thrash metal of old and not the thrash metal I had hoped for.
ANTI-SAPIEN/Calculating Obsolescence (Self-Released)
There was some stuff on here that I liked and some stuff I didn't like. First the good. This is solid, not bad death metal that will dull your ears. Thick productions and I like the guitar sound the band has it's old-school death metal no doubt. The bad. I wish there was some more variety with the tunes and I was craving speed at times. I also hated the screeching vocals the singer used at times, I hate that shit and feel it does not belong in metal period. So it is a hit-and-miss for me.
LETALIS/Bestia Oculta (Trauma Records)
A total speed metal attack with a female singer who will rip the denim jacket off you ha ha. All kidding aside this is some cool shit. Her voice does get on my nerves at times as she does too much high-pitched screaming as it's like ok we get it lady. Musicwise think 80's speed metal the way it used to be. Classic metal riffing with the metal spikes heald high you metal bastards. Very cool and catchy, wish the vocals were not high pitched as much as they are.
GRNDPAD/Finger Collector Crew (Iron Shield Records)
Sorry this is not thrash metal, but nu metal with plenty of groove with those tough guy vocals. This has been done to death and then some by so many other bands and this is just generic and boring I'm afraid. I found nothing of value in this at all. If you are into Pantera and other groove stuff, you can add this to your pile.
GORY BLISTER/Reborn From Hatred (Eclipse Records)
The music on this was fairly good, but I wasn't the hugest fan of the vocals. The music is fast, technical death metal that was played well and sounded good. The vocals aren't the strongest on here and after a few listens I will actually change my mind and say they are good. Strong production and the fact that it doesn't sound like every other band is a plus too.
THIRD STORM/The Locust Mantra (Chaos Records)
Talk about bands mixing black and death metal, this band for sure does. The vocals are easily in the black metal ways, but the music is death metal. The bad thing is, after a couple of tunes I was bored and it got too melodic for me. It lost the 1st kick the band had with the 1st song and it just had me yawning. The band didn't keep up the energy levels I'm afraid.
DYING FETUS/Make Them Beg For Death (Relapse Records)
I had not heard this band for ages as I was not into that groove death metal slam style back in the day (the 90s). I am still not, but this band is still kicking and yes they are playing the same style as way back when. The band does have some less groove and cup the mic-style vocals as well.  If you liked any of their past releases, you will love this no doubt.
EVIL INCARNATE/Lucifers Crown (Fallen-Angels Productions)
I have the latest release by this long-time death metal band and it is a very cool and solid release. The band mixes up some slower and faster parts on this I read one review, and the guy wasn't too keen on the drums, I like them so fuck you dude ha ha. It's death metal asshole. Vocals are low growls of death that are not your average growls either, which makes that another plus in my book. This will take a few spins to really digest and then you in deep. Good stuff here.
CEREMONIAL BLOODBATH/Genesis Of Malignant Entropy (Sentient Ruin)
Some ultra fast, brutal death metal and I like it. This hits hard and hits fast with a pulverizing attack of speed and fury. Vocals are deep growls of death and fit perfectly with the music. The band slows it down to let you catch your breath and then it is back to the speed attack. Old school chunky death metal how it should be played and sound.
CEMETERY URN/Suffer the Fallen (Hells Headbangers) 
This label has done it again. Another crushing and brutal release of pure death metal. This isn't all-out speed like the above band, but more like early Death at times, with those thick, churning riffs that suck you in. A pure death metal vocals dream as well and the vocals are like a dying man. Production is awesome and this is the death metal you want and need you sick death metal fiends.