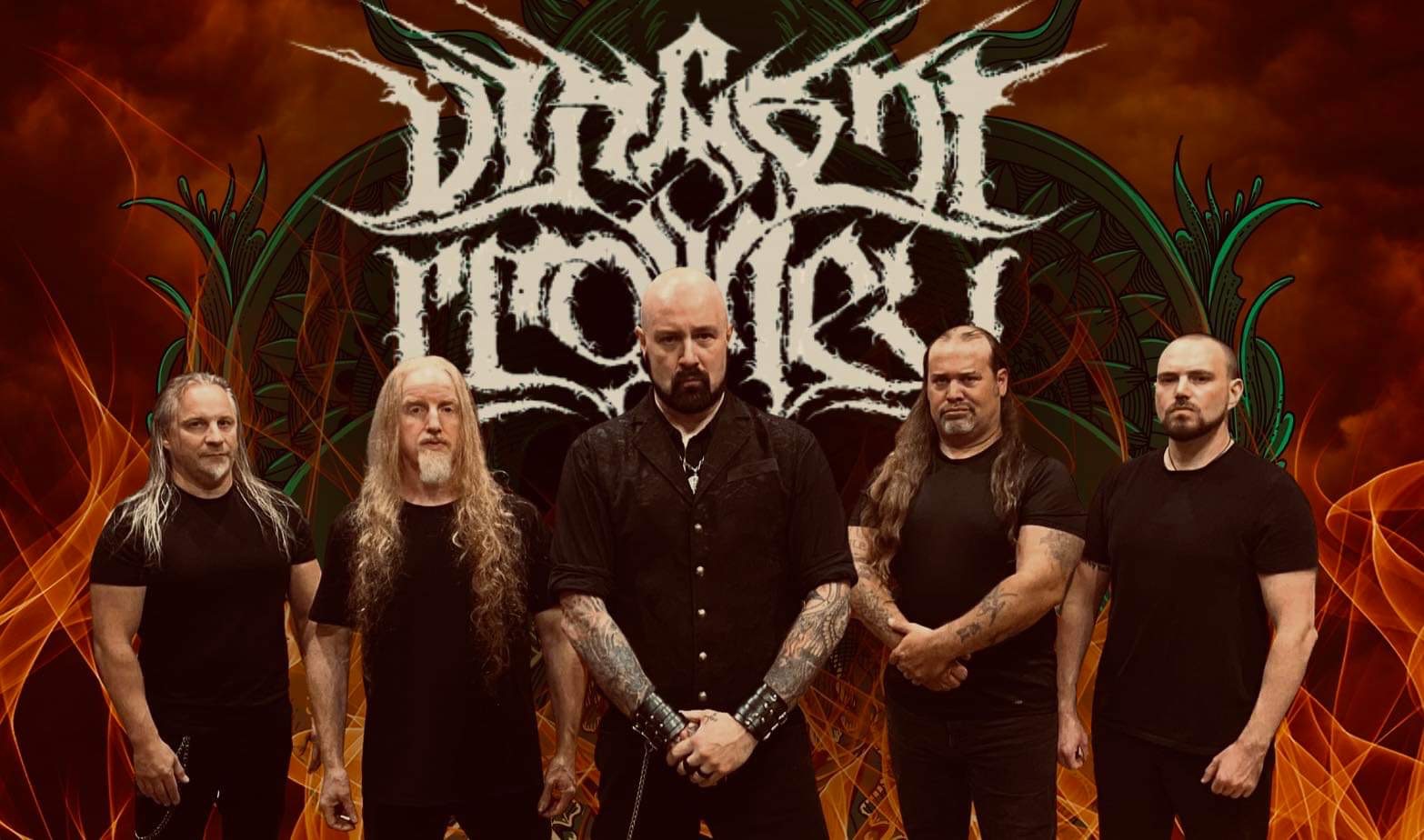 I recently reached out to Vincent Crowley about his days in Acheron and also what he is up to with VC Crowley Music and also is take on the music of today. It makes for a great interview, I hope you enjoy it.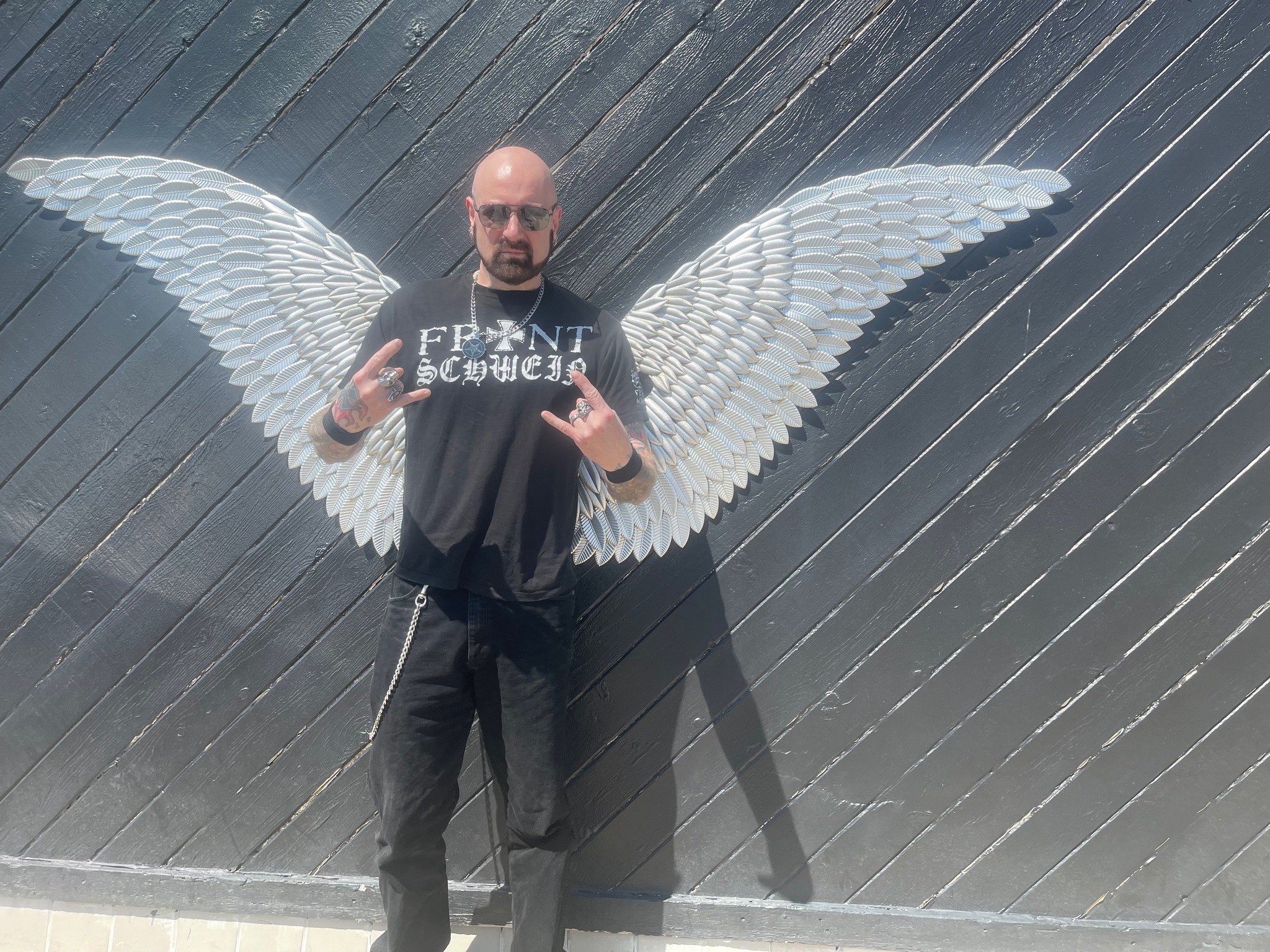 Vincent, did you think in a million years that when you were putting out demos in the late 80s and into the early 90's you would still be involved in an underground band in 2023-2024?
VC- Hell no! At that time, I was just pleased to put out music and share it will the tape-trading scene. It is indeed a privilege to still be at it and putting out albums in 2023. I am still as passionate about music as I was back then, but now I can do other things I have been wanting to do for years, such as my band's VINCENT CROWLEY and INFIDEL REICH.
How did you end up discovering the underground? What were some of the 1st bands that you heard? Was this a style that you got into right away or did it take a listen to really digest it and then you were hooked?
VC- When I lived in Michigan as a teenager, I started getting into bands like VENOM, HELLHAMMER, SLAYER, MANOWAR, and METALLICA. When I was 17, my parents moved us to Tampa, Florida. When there, I started getting into MERCYFUL FATE, CELTIC FROST, CARNIVORE, POSSESSED, BATHORY, SODOM, etc. One night I snuck into a Metal show at the infamous RUBY'S PUB and met Ben Meyer of NASTY SAVAGE. We became friends and he introduced me to the local Metal scene. That's when I was introduced to bands like SAVATAGE, MORBID ANGEL, DEATH, MASSACRE, and of course the mighty NASTY SAVAGE. That is when I picked up Metal magazines and found pen pals to tape trade with. And it all blew up from there.
Do you know or give a shit that there are 6 other bands with the name of Acheron?
VC- Unfortunately, I do know. I've contacted many to inform them about my band, but these idiots don't have a clue. I don't really care anymore, since I know most c people know who is the real ACHERON. There was another band in the late 80's with that name, but they changed their name.
Now in the late 80's a lot of the thrash bands were slowing down and death metal was taking over where you guys were based out.
VC- Tampa was a great haven for extreme Metal talent. It was an explosion on the scene. In the late 80's I was in NOCTURNUS and was part of that original one that original scene. I moved to Pittsburgh for a few years and returned to Florida in 1991. By that time, Tampa was booming with a great thriving scene.
In addition to singing you also play guitar and bass. How did you get your interest in guitar and bass and who are some of your favorite singers, guitar players, and bass players?
VC- Tony Iommi was my biggest influence. I actually didn't pick up a guitar till I was 16 years old. My friend Scott from Michigan started to teach me simple Metal stuff and when I moved to Florida I didn't know anyone, so I started to practice all the time. My lead style was the old-school chaos stuff like old KREATOR, SLAYER, etc. I later felt working with better lead players would better the songs, so I switched to bass. Geezer Butler, Steve Harris, and Peter Steele from CARNIVORE were big influences. Vocally, Cronos, Quorthon, Millie from KREATOR, Jeff from POSSESSED, and Kam Lee were big influences.
Now you were like most bands back then releasing demos and then sending them out to fanzines, and college radio, selling them at shows, and having tape traders get the word out about the band as well. Now you had several demo releases come out before you released the now classic "Rites of the Black Mass" on that shitty label Turbo Music. Were they the only label interested in the band at the time or were there others? Is this release still for sale?
VC- No, we actually talked to several interested labels, including OSMOSE PRODUCTIONS. Unfortunately, I was young and fell from the bullshit promises of TURBO RECORDS.
"Rites of the Black Mass" was our biggest seller and release. It has been bootlegged multiple times through the years. But it is now available on some legit ones like VIC RECORDS, FUNERAL INDUSTRIES, and some South American ones.
So you finally got those assholes from Turbo off your back so to speak. I know they ripped you off, but did they let you go or did they try and keep you on the label? Wargasm for example was stuck on Profile for 3 years with them before they finally got away from them.
VC- TURBO MUSIC……what a nightmare. We were never held to their shitty label due to them breaching our contract. But they ripped us off for years with "Rites of the Black Mass", coming back under different label names and re-releasing it without permission. It was a nightmare.
In 1994 you put out your 2nd full-length this time on Lethal Records. How was it working with them? Any recording budget at all? Why the album title "Lex Talionis" and what are your thoughts on this release these days?
VC- They were better than TURBO MUSIC, but later became just like them. The drums and the bass were recorded at AUDIO LAB in Tampa, and then they flew us to Munich, Austria, to record the guitars and vocals and finish the mix and mastering there. After that, they never contacted us again, except for sending us some copies of the album. Lex Talionis means "Law of Fang and Claw". Doing that album was somewhat going backward because many of those tunes were songs I wrote for when I was in High school and were even used in my former bands ENTITY and NOCTURNUS.
An EP followed also on Lethal Records before you released your 3rd full-length called "Hail Victory" on the now-closed Metal Merchant Records. I know the label was based out in IL if I'm not mistaken. What made you go with this label? How well did it do at the time?
VC- After LETHAL RECORDS screwed us. I decided to release the album under its original title and add the songs from the 7-inch record "Alla Xul" with intros from Peter H. Gilmore. I'm not sure how good it sold, but I've met tons of people who have it in their collection.
Were you getting to play many shows at all whether they were out of town or local?
VC- We definitely were playing shows at that time. No touring, but plenty of local shows and a few out-of-town ones with some big bands.
Do you think after having all this material under your belt so to speak that you were finding your sound, that sound you wanted the band to sound like?
VC- Absolutely. I think each album ACHERON did was true to its original format but evolved and experimented also. And I think that had to do with working with so many different talented musicians. I think our final ACHERON album "Kult Des Hasses" was the perfect album to end my career with.
For those not in the know, how did you come up with your name and logo?
VC- I liked the idea of what ACHERON in mythology was. And symbolically, just like the "River of Woe", our music took our listeners to the depths of darkness. Alan Muse from Tampa did the original one. Peter Gilmore created the one we used mostly throughout our career. Then I had Vojtech Moonroot revamp the original one at the end of the band's existence to come full circle. It is mostly used on all our re-releases.
After an EP on Lethal, you then released what I consider a classic on Moribund Records called "Anti-God, Anti-Christ", which I saw all over the place back in 1996. How long did the music for this release take to come together? How long were you in the studio for this release?
VC- After "Lex Talionis", personal stuff was going on in my life, so the band was pretty much on hiatus for a year. But I was still writing music. Members started doing other bands, so when I decided to resurrect the group, I started working with new musicians. When I was finally satisfied with the line-up with Michael Estes/Guitar, Richard Christy/Drums, John Scott/Keyboards, and myself on Bass and vocals, we started all learn the new songs I wrote. MORIBUND RECORDS signed us, and then we began work on "Anti-god, Anti-christ". We recorded that EP in one long weekend session at AUDIO LAB STUDIOS in Tampa, Florida.
I love the cover for this release. Who did you get to do it?
VC- An artist named Rex Church, did all the ACHERON album covers in the 90's.
What are your thoughts on this release these days? I remember getting a promo of it back in the day from Moribund. How was it working with Odin and the label?
VC- It was a great time and an album I really enjoyed doing. It actually became of 2nd most popular album, next to "Rites of the Black Mass". The song "Fuck the Ways of Christ" actually became a staple in the band's setlist due to its popularity. Who would have known? Odin was very supportive and we used to talk on a regular basis when we were on the label.
Would you say the band's sound changed much from the days of your 1st release? What would you say was/had been the biggest difference at the time?
VC- I think the overall style remained true, but the addition of different types of musicians, including keyboards, gave it a different edge. When everyone was concerned with blast beats in their music, I wanted to keep the more old-school feel with more dark-sounding stuff.
Now bring on a decent size indie label that was based in the US (Seattle, WA) did they give you any sort of budget to record or help you out with any mini-tours, etc? Did you manage to play out a lot with this release?
VC- We got a reasonable budget that covered all our expenses recording and art-wise. They also did an ad campaign to promote the release. We didn't tour, but we did select shows here and there. ACHERON was never much of a touring band. Just a show here and there. And later just some mini-tours.
Did you have a nice mix of death and black metal fans who liked and followed the band?
VC- Absolutely! The fans have always kept ACHERON alive throughout the years. We also had many fans who weren't necessarily Metal fans but resonated with the Satanic and anti-religious themes.
After an EP, you hooked up with Full Moon Productions, who were making a name for themselves in the underground, and they released a full-length "Those Who Have Risen". How did you end up hooking up with them? What was it like working for them? Was it better than most of the other past labels, not Turbo?
VC- Originally, MORIBUND RECORDS was supposed to put out "Those Who Have Risen", but they were having some issues and kept delaying things. So, we had to look elsewhere to get things going. I talked with Jon from FMP and we decided to work together for this release. FMP gave us a very good recording budget and did a lot of promotion for the album. MORIBUND did push the last EP the best they could, but FMP took promotion to the next level. It was definitely good working with them.
Did you get to play many live shows or even make it overseas at all up until this point?
VC- No overseas live shows at all. Several got planned, but all fell through. The only time we went overseas was to record vocals and guitars in Vienna, Austria, for the "Lex Talionis" album.
Thoughts on this release these days?
VC- I am really proud of "Those Who Have Risen". It was very unique and experimental compared to the past ACHERON material, but with keeping the band's feel.
Blackened Records released a 2-1 of "Lex Talionis / Satanic Victory". Were you ok with it how good of a job did they do?
VC- I'm definitely not a fan of this release. It was put out without my knowledge. The scumbag from LETHAL RECORDS licensed the albums to them, when they had no rights to them due to a major breach of our contract. Our former manager Brian Kenyon did go after them and got some compensation for that, but not much.
Full Moon then did a release of all your demos called "Compendium Diablerie – The Demo Days". Was there any unreleased stuff on it? How cool was it to see your demos come out on CD?
VC- There were definitely some unreleased recordings in it. It is always great to listen to your work on CD. And having this brought back a lot of good memories.
Warlord then came along and did an EP with you called "Xomaly". Why didn't you use Full Moon again or one of the other labels? Did you find them or did they find you? Thoughts on the EP today?
VC- After "Those Who Have Risen", I moved to Ohio in 2000 and thought ACHERON was done. At that time I wasn't in contact with FMP anymore. I started to work on a project called WOLFEN SOCIETY. We put out an ep called "Conquer Divine". During this time, BLACK LOTUS RECORDS put out a double-CD compilation ACHERON release called "Decade Infernus 1988-1998". This brought a lot of interest in ACHERON again. So, I got an offer to do a tour with DARK FUNERAL with ACHERON. I got in touch with Michael Estes and Richard Christy, added keyboardist Aaron Werner, and we did the tour. That is when ACHERON got back in action. Richard was doing DEATH or ICED EARTH at the time, so we got Kyle Severn on drums and started writing material. We put a couple of songs together and demoed some songs. That demo became the "Xomaly" release. We were experimenting with the sound and it was a bit different from what ACHERON was known for sounding like. I enjoyed the experimentation on the recordings, but it wasn't the direction we ended up doing. But WARLORD RECORDS were the ones who approached us to put it out.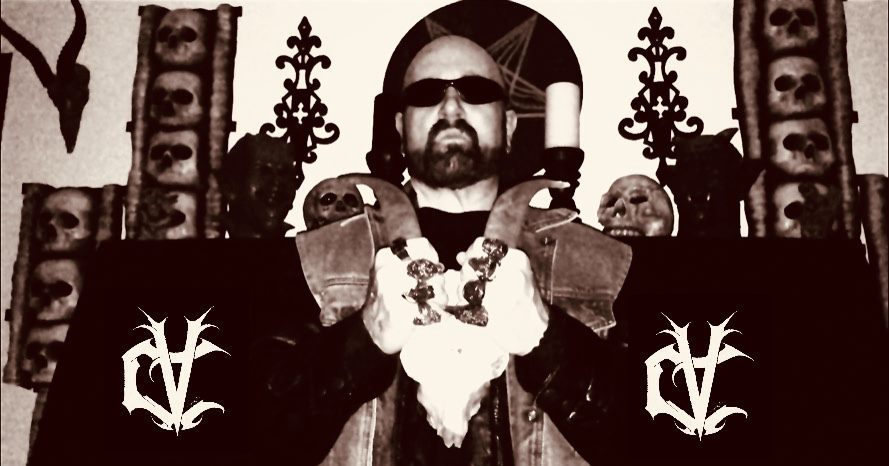 So what was that tour like with Dark Funeral? Were you playing in front of some decent size crowds? Putting together a set list must not have been fun ha ha?
VC- It was an awesome tour. All the shows were great. Mexico has always been very welcoming to ACHERON. The set list was what we usually would play and the response was killer. That tour was in 2001, and we re-united with drummer Richard Christy for it.
A 2003 release called "Rebirth: Metamorphosing into Godhood" put out by Black Lotus Records came out next. Why that title or was it you saying it was a rebirth of the band of sorts? Thoughts on this release these days?
VC- Well, in 2000, ACHERON was not active at all. I was working on the WOLFEN SOCIETY project. Plus, I resigned from the CHURCH OF SATAN in 2000. When ACHERON came back, lots of things in my life had changed. ACHERON was always linked to the C.O.S. in the past. When we started writing music for the album we were experimenting with our sound and did a demo, which later was released as "Xomaly" on WARLORD RECORDS. After hearing it, I knew it wasn't the direction I wanted to go. My attitude was definitely more aggressive and angry at that time. So, we discontinued using keyboards and went back to the original straightforward style. It was indeed a rebirth of the band in many ways. Lyrically, all of the songs were symbolic of real things in my life at that time. "Church of One" was basically about me leaving the C.O.S. and finding my own path. The 2000's era of ACHERON was definitely more aggressive than the music from the 90's.
A covers comp follows with you and the band doing a covers album of not underground bands but a few mainstream bands (Kiss, Priest, Maiden). How do you think this went overall and how much fun was it for you guys as a band? What was the response like?
VC- Basically, that album is just a collection of all the songs we had done on past tribute albums. It was just for the fans to have all the songs on one album. They were fun to record bands that influenced us.
A massive 32-comp double CD was released next called "Decade Infernus 1988-1998". Are these unreleased goodies from the band?
VC- This release was more of an ACHERON history double CD, for those who wanted to hear our first decade of music without the intros. It celebrated the band's first 10 years and helped usher in the new era.
For the next few years, you lay low not releasing anything until a 3 song tape came out on a small label Frozen Darkness Productions called "Satanic Supremacy". Now why a small cassette-only release and what were you and the band up to from say 2004 till 2008?
VC- "Satanic Supremacy" was the demo for the album "THE FINAL CONFLICT: Last Days of God". After "REBIRTH: Metamorphosing into Godhood", guitarist Michael Estes left the band, due to him living in Florida and us in Ohio. We had issues finding permanent guitarists to work with and we just played live shows and worked on new songs. I had the concept of "THE FINAL CONFLICT" and half of the songs had already been written when I was still in Tampa. It was originally going to be an ACHERON album, then when I moved to Ohio I wanted to use that music is WOLFEN SOCIETY. We did record one of those songs on the WS "Conquer Divine" ep, but the band s didn't work out, so that didn't happen. After "REBIRTH", I expanded and finished the conceptual story and music for THE FINAL CONFLICT" and then we finally recorded it for DISPLEASED RECORDS. Unfortunately, the productivity of ACHERON in the 2000's was terrible. Everyone had crazy schedules and only Kyle and I lived in Columbus. Everyone else was from out of town.
The underground was really starting to change as gone was tape trading, cassette/vinyl/CD buying I want it for free buying. My Space which started off as something cool got too greedy and faded. Facebook and YouTube were taking over. What are/were your thoughts on the way the underground was headed at this time?
VC- MYSPACE was music-oriented, so that was cool. But when that ended, It was going in a direction I didn't like. As soon as restrictions and control invaded the internet, everything went downhill. Even though you were able to get more info on music online, the illegal downloads really affected sales for everyone, especially underground bands. Bands like METALLICA and PANTERA still made tons of money, but the more extreme ones definitely felt the hit. Now everything is a mess!
So I read at one point you left The Church of Satan. What led to this decision?
VC- Things in the C.O.S. drastically changed after the death of Anton LaVey and the rise of the internet. The once Satanic think-tank started to become as ridiculous as the organized religions were supposed to be against. And it started to feel more like a social club and haven for internet geeks that just wanted to feel "cool" and talk shit. At this time I also didn't feel the need to be labeled as a Satanist anymore or recognize Satanism as an actual religion. I still resonated with the Satanic philosophy, but due to my disgust for the new trendy Satanists, I wanted to distance myself from being linked to the ones that spewed nothing but garbage and bullshit online. Not to mention, Satanism is a great philosophy, but in no way is it an actual religion when you really dissect its true origin. Religions are toxic, controlling, and manipulative. But I guess it later became that with the new breed of organizations. I'm always going to be a Satanic being, but I have evolved past the labels and organizational affiliations.
So now what did you do with yourself from 2009 till 2014 which was when the last Acheron release came out (not counting the comp release in 2020)? Were you at least out playing live?
VC- The band went through a bunch of bullshit. To tell you the truth, there was way too much self-indulgence during the 2000s of ACHERON that definitely affected the productivity of the band. And I take full responsibility for it. I didn't want to deal with any business regarding the band anymore. We still did shows and made music but at a very slow pace. Kyle Severn and I had a falling out for almost a year, then later worked things out to continue the band just to get back to enjoying the music again. We eventually put together a bunch of new songs and LISTENABLE RECORDS signed us and we released our final album "KULT DES HASSES".
Now I know the underground by 2014 had totally 1000% changed as people, except diehards were buying physical products. Did that in some ways make you not want to put anything out?
VC- As I said before, I still liked making music and playing and took it seriously, but my first priority was to have a fucking good time. I was scarred by the business in the past and tried not to get my hopes up on something positive coming from our work. Then I gave it one more shot in 2012.
So 2014 does roll around and you put out your last record which was called "Kult des Hasses", which came out on Listenable Records. Why this title and how did you end up working with Listenable Records? How would you rank this album among your releases?
VC- This album was unplanned and came together very naturally and organically. No deadlines, pressure, or expectations. It was like starting over again. The title means Cult of Hate in German. That was my inside joke for idiots that started the stupid Nazi rumors about us during the "Satanic Supremacy" demo release, that used the German death head art and ThunderBolts for the S's In the title. It was all tongue-in-cheek, had nothing to do with White Supremacy or Nazis, just stealing those images to make them Satanic. I figured using German would piss these idiots off and give them a name. People who know me personally know that ACHERON stands for true Satanism, which has nothing to do with that other stuff. You could say it was my final "Fuck off" to the haters. Haha As for albums, I personally think it was the best release ACHERON ever did. I felt the songwriting was at its peak, the lyrics flowed well, and it brought the band back to a sound and feel from the early 90's.
So at what point did you say I had enough of this and decided to leave the band, basically putting the band to rest? I did read you were doing some final shows, did they happen and what was the final show for the band?
VC- After "KULT DES HASSES", Kyle was working more with INCANTATION again. His lack of commitment to ACHERON started tensions and he finally left the band. We didn't even do one show to promote that album, which definitely affected the sales. I was now completely done with the idea of making another album. So, I assembled a line-up and made the decision to only do live shows. And we did that until the band broke up. We probably toured and played more places in those final years than in the whole history of the band. It was a good ending to a 30-year band. Our last show was in Columbus, Ohio. We were supposed to end things at a festival in Finland, but due to a major flight cancellation that didn't happen.
Did you have any say in a comp CD that came out in 2020 called "30 Years of Pure Hell" on Black Seal Productions?
VC- Yes. That was put together for the fans. It celebrated the band's history and was kinda a farewell.
Is there any unreleased stuff that may see the light of day or would get the band back together for the right festival show if the timing was right?
VC- There is no unreleased material as far as I know. Maybe some demo stuff in the archives. But no studio recorded songs. I'll never say never, but it would take an awful lot to get me to play an ACHERON show again. Even to do another album would have to be an incredible offer. And I don't see that happening.
Now how did the coming of your current band, Infidel Reich come about? For those who only know of you through Acheron, how different is this band? How did you come up with the name of the band?
VC- Bob Bagchus of ASPHYX and I had been friends for years. We always talk about wanting to work together on something. When ACHERON played a fest in Holland with ASPHYX we hung out. After that, we started talking to each other on a regular basis. We wanted to do an old-school death metal band that was raw, gritty, and angry, with that CARNIVORE edge to piss off the politically correct Metal scene. So, we came up with a name that would get attention and controversy. And thus became INFIDEL REICH.
So in 2017, you released a self-titled EP called "Infidel Reich", with your new band. How smoothly did things go and were you kinda happy to be done with Acheron and on with this new band and having some new music out? How long did it take for the songs to come together?
VC- Things went very well and it was exciting to do something new. Bob Bagchus (ex-ASPHYX) and I had been wanting to do something together for years. New style, new ideas, new lyrics, it was a breath of fresh air. The other members live in Holland, while I live in the USA, so we worked and talked things out for songs over WHATSAPP. Songs came together rather fast and naturally. They recorded there and I did my tracks here. The debut album was cool to do. Very old-school Death Metal sound with a Punk-like attitude.
How did you hook up with Helter Skelter Productions? Did you find them or did they find you? Thoughts on the EP these days?
VC- Bob Bagchus was in contact with them. I liked the EP a lot, but I think we got better with every album and really started to get our sound and style together.
In 2019, the band's 1st full length came out called "Reichenstein" also on Helter Skelter Productions. Where did you find guitar player Tony Brookhuis, who joined the band, and what happened with Stijn Bogers?
VC- Tony was actually an original ASPHYX member that Bob was still good friends with. He was a great addition to the band. Unfortunately, Stijn had to leave due to other obligations. He's in a Grindcore band called ANAL SMEGMA. But he is still our Brother and we support his endeavors.
Now did having a new guitar player, do you think that changed your sound much? How long did it take for these songs to come together? What was the response like when this release came out?
VC- It did a bit but didn't stray much from the original ideas. Again, the songs came together very organically and our old-school influences shined through. Fans seemed to really like this album. It was a fun album to do.
In late 2021, came your latest release called "New World Outrage". How did this release come together? After all this time was it getting pretty hard to get lyrics together or not?
VC- This was our best album, in my opinion. It was written and recorded during the COVID19 craze. Lyrics were very easy to come up with with so much going on to influence them. Writing lyrics for this band is never hard, because so much insane shit in the world to write about in either serious or tongue-in-cheek ways. Martin Van Drunen even did a duel vocal song with me on the title track. Very aggressive album.
Now this release came out on Raw Skull Recordz and not HELTER Skelter. How was working with Raw Skull Records, a label I have never heard of myself?
VC- Well, due to the controversy with the band, it was hard to find a label. RAW SKULL RECORDZ liked our stuff and didn't believe the bullshit negative lies them PC idiots in the Metal scene that were being spread. He knew we were inspired by bands like CARNIVORE and S.O.D., and actually read our lyrics. Working with them was great. But due to the propaganda put out about us, the album got banned in many distro places, including the label's BANDCAMP. INFIDEL REICH was pretty much canceled by the mainstream Metal scene, making the album hard to find, unless you bought directly from the label or an open-minded distributor. This just proved our point about censorship taking over the Metal scene and the world.
So I am to assume the band has very played live? Would you fly overseas and play a fest if the timing was right?
VC- INFIDEL REICH had never played a show. We were going to Docs Fest several years ago, but due to some controversy with the band, we got canceled. So, I don't see any live shows until this scene quits being a bunch of politically correct assholes that promote censorship and fake accusations.
I also read that the band is on hold these days. What is going on with the band these days?
VC- INFIDEL REICH was definitely an experiment, beyond being just a band. And our predictions were correct. The band got attacked and canceled for the most part within the industry, for no other reason than our name. Freedom of speech and expression is dead with a majority of Metal fans these days. If we can find a label to pick us up and do another album, we will definitely do another vine. But as for now, we will just wait and see what happens. We don't have tons of fans, but the ones we do are hardcore and totally understand what our mission was and is.
Now what are you up to yourself these days? Do you go and see many shows these days?
VC- My main band now is VINCENT CROWLEY. We released the debut album "Beyond Acheron" in 2021 and our new album "Anthology of Horror" will be out in early 2024 on HAMMERHEART RECORDS. I like to call the band a "Musical Horror Experience" inspired by all kinds of classic Old School Metal, while the lyrics are based on Death, Horror, and the Macabre. As for seeing shows, I haven't been to many in recent times, due to my schedule and the limited shows in my area, but I go when I can. Usually, I go out of town for most shows.
I have read on your Facebook account and agree with some of your thoughts on the underground these days. What are your thoughts on those who didn't read them?
VC- I could write a novel on this subject, so I'll condense my answer. I think the scene of old is gone. There are some kindred spirits who try to keep the scene alive, but it seems like many Metal fans let the music media dictate the rules. The true Underground is more of an attitude now. It is made up of people who are more open-minded, but physical merchandise, see live shows, and are supportive of bands who don't submit to the masses. I think it can rise up again, but we need the new generation of metalheads to understand what a Metal community really is.
Please plug any websites or social media pages you have and any merchandise you might have for sale.
VC- I now have an active YOUTUBE channel called VINCENT CROWLEY MUSIC. I post all my band's music there and also do Q&As about them. As for band links, they all have FACEBOOK pages to check out. People interested in merchandise I have can email me directly at: [email protected]
YouTube link is:
https://www.youtube.com/@VINCENTCROWLEYMUSIC
Vincent, OMG, horns up, and thanks for doing this incredible interview about your whole career. Any last words to wrap this up?
VC- I appreciate the support for my music. I hope everyone checks out my bands and picks up the new VINCENT CROWLEY when it comes out in 2024. If anyone has any other questions for me, they can send them to my email and I'll answer them on my YOU TUBE channel. Keep Metal alive, and keep it real! Cheers!