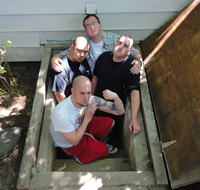 Long Island based grindcore band, Buckshot Facelift, is currently recording "Elders Rasp", their third studio album.
The album is the first to feature lead guitarist Paulo Paguntalon (Copremesis), and will feature guest appearances by members of The Communion, Anal Birth, Plague of Faith and Laceration (NY).
To celebrate and promote, they are offering their previous 2 albums for free download, as well as videos of the recording on their blog :
BuckshotFacelift.blogspot.com
.
The band also recently uploaded a rehearsal tape featuring older songs mixed with material from the new album, as well as prank calls, that they call "The Trainwreck Sessions".