The Law from ANTIGAMA's upcoming Stop The Chaos MCD, has today been made available to the public. Check it out below:
The band recorded Stop The Chaos at Warsaw's Progresja Studio with sound engineer Pawel Janos Grabowski, and commissioned the mixing and mastering duties to longtime friend and prominent Polish music producer Szymon Czech (Nyia, Third Degree). Featuring six tracks of the band's monolithic crushing power and cutting-edge grindcore tactics, Stop The Chaos will be released on May 18th through Selfmadegod Records. The album will be available in a standard CD pressing as well as a limited edition CD in special screen-printed jewel case box with patch and pin (limited to 100 pieces), and via digital download, with a vinyl version coming later this year.
ANTIGAMA have already began confirming live attacks throughout Poland to promote the mini-album, beginning with a three-day killing spree in mid-May including a record release party in Warsaw on May 18th, followed directly by shows in Turek and Poznan.
Guitarist Sebastian Rokicki comments:
"We are totally stoked about new recordings and can't wait to get them released. So far feedback has been more than great. We look forward to promoting Stop The Chaos on stage this May!"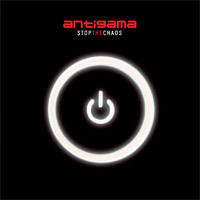 Tracklist:
01. E Conspectu
02. The Law
03. Stop The Chaos
04. Find The Function
05. Intricate Trap
06. The End
ANTIGAMA May Tour Dates:
5/18/2012 Progresja Music Club – Warsaw, Poland w/ Reality Check, Soul Snatched
5/19/2012 Pub21 – Turek, Poland w/ Mad Lice
5/20/2012 Blue Note – Poznan, Poland w/ Hate, Anthem, Theriotes, Final Sacrifice
This year ANTIGAMA will also be releasing a 3-way split with Noisear and The Kill, as well a new full-length is set to be recorded later in the year. Stay tuned as the action unfolds throughout 2012.