Premiere track from VORKREIST's upcoming album, Sigil Whore Christ, is streaming right now at Agonia Records SoundCloud.
Click here
to listen the track, called "Maledicte".
VORKREIST, French black/death metallers featuring members of HELL MILITIA, SECRETS OF THE MOON, GLORIOR BELLI, BLACKLODGE , ANTAEUS and MERRIMACK, will release their 4th album on Agonia Records on April 22nd in Europe and May 22nd in North America.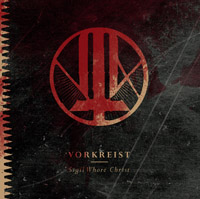 Sigil Whore Christ was recorded at Drudenhaus Studios (Alcest, Les Discrets) and is described by the band as catchy as hell, brutal as fuck, and still with this overwhelming feeling of sickness.
VORKREIST is:
Saint Vincent: Vocals
A.K.: Guitar
EsX: Guitar
LSK: Bass
Dave Terror: Drums
With over 12 years of experience in the French black/death metal scene, the band has gained a solid stage reputation, having previously performed with BELPHEGOR, DODHEIMSGARD, KAAMOS, OFERMOD, CODE and KAMPFAR, among many others.
Sigil Whore Christ will be available as: digipack CD, digital download, heavy vinyl and limited to 100 copies heavy vinyl with red splatter (the last one available only via Agonia Records Webshop). The first pressing of every vinyl comes with an exclusive poster.