Swedish black metal band SVARTSYN unveiled the second track off the upcoming full-length album entitled "Black Testament".
The album is coming to shops on the 28th of May in Europe and 11th of June in North America on Agonia Records.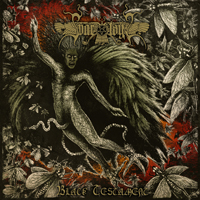 Tracklist:
01. Revelation in the waters
02. Venom of the underworld
03. Demoness with seven names
04. Carving a temple
05. Eyes of the earth
06. Rising beast
07. Black testament
According to the band founder and mastermind – Ornias – "Black Testament" can be described as a "sinister mix between Destruction Of Man (2003) and Timeless Reign (2007) releases." He also added: "it's a journey through my spiritual darkness and death."
The album was recorded at Mortsella Studio, Sweden. A short series of video clips* documenting the recording process (vocals, guitars and drums) can be viewed at the links below:
(*videos listed in chronological order)
"Revelation In The Waters", can be listened below.
"Demoness With Seven Names", can be listened below.