SHOOT TO KILL is the name of the debut album of the revelation group of Chilean Thrash Metal SUICIDE NATION, the first album of the band formed in Talca is available under AUSTRALIS RECORDS.
Formed in 2006 by Félix Arto (vocals), Matías González (drums) and Guillermo Ramírez (bass), Suicide Nation enters the national scene with the edition of its first Ep ANOTHER WAY TO DIE in 2009 which the band begun to show musical ideas and all its power playing a new powerful thrash metal. A mini tour of Argentina, to be the finalist of the Escudo Rockaxis competition and playing as the opening band of Monstrosity in local concert were the anticipation of the creation of its debut album recorded in CARDIOIDE STUDIOS (Postumo Lumbre, Unsilent) owned by actual guitarist Carlos Puentes.
By now the band is promoting and preparing some shows in order to release the album in its home town. The art of the album was made by Miguel Toxik.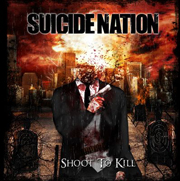 Tracklist:
01. See the World Burn
02. Another Way to Die
03. Shoot to Kill
04. No Bound to Violence
05. Reaper
06. Day of Destruction
07. In Cold Blood Crime
08. Suicide Nation
09. Born Guilty