My Kingdom Music announced that the Norwegian Apocalyptic Black Metal force REVELATION'S HAMMER have been signed for the release of their self-titled debut album.
With their unique and impressive sound of dark, epic and powerful black metal, the album is expected to be considered as one of the "the next big things" within the Scandinavian Black Metal movement. With a modern, but yet old-school piece of art, REVELATION'S HAMMER is ready to claim their throne within the extreme music scene and will definitely hook you up with their intense way of performing the black arts. Epic song structures, devastating and hateful vocals, ultrafast tremolo riffing, hellish drums of another dimension and a apocalyptic atmosphere that really brings forward a true sense of doom.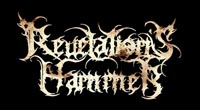 The throat and strings is managed by the bands' mastermind ACCUSER while their heavy battery is performed by MYRVOLL from Norwegian NIDINGR. The album is mixed by Børge Finstad at infamous Toproom Studio (MAYHEM, BORKNAGAR) and mastered by legendary Peter In de Betou (WATAIN, DIMMU BORGIR, DARK FUNERAL). EXILIS from TROLL appears as a guest musician on some of the tracks.
The artwork is put together by Portuguese Ricardo Fernandes and is a truly amazing collage built upon a carefully chosen collection of (anti)religious paintings that reflects the band's conception. REVELATION'S HAMMER debut album is scheduled for release on June 3rd, 2013 through My Kingdom Music.