Reviews
REPTILIAN DEATH – The Dawn Of Consumation And Emergence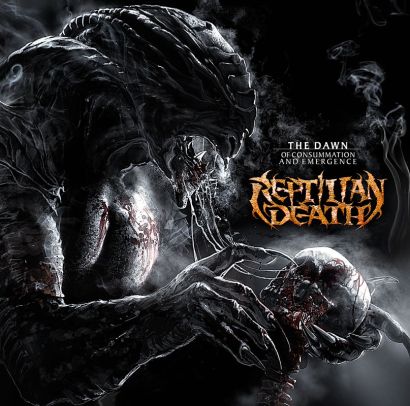 Universal Music India – 2013 – India
REPTILIAN DEATH from India are heard from again. "The Dawn Of Consumation And Emergence" is called their latest trick and is distributed via Demonstealer Records.
Here is celebrated Old School Death Metal. Harsh riffs which are played very technical integrate diversified into the Death Metal overall structure. Thereby REPTILIAN DEATH lose at no time its hardness and darkness. The doubleblast drumming in high speed manifest the aggressive, forceful character of the production. The all in all twelve songs are all move in the mid tempo area without thereby being slow or even being verbose. You can hear here also calmer, little short of halting passages which give the listener an even though short opportunity to rest. Otherwise is headbanging here the order of the day! The dark, emphatic growls know how to intersperse and make a lasting impression at the listener. Very professional and with a lot of dedication recorded you can't also grumble here productional. REPTILIAN DEATH are successful to deliver with "The Dawn Of Consumation And Emergence" a strong piece of Death Metal which delights. To purchase it is here duty!!!
8,4/10