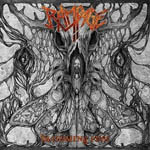 Metal Scrap Records – 2012 – Russia
The Russians RAM-PAGE honour the sympathetic Metal people already since 2010. Their latest opus is called "Blooming Rust" and is distributed via Metal Scrap Records.
RAM-PAGE actualy doesn't fit in any musical pigeonhole. A mixture of Death Metal, Progressive Metal, Thrash Metal and Black Metal would probably the best description of their music. Dark base frames which are relaxed by innovative riffs. Thereby those vary from dark to Rock insertions without coming across chaotic or annoying. RAM-PAGE show here their playful skills and their having a knock for adaptions. The all in all eight songs however never loose its darkness. The wealth of variants concerning the played tempi relax the production a bit. Aggressiveness and hardness are however to feel at the more slower passages. The forceful drumming and the distinctive, nagging vocals of vocalist Privalov Vlad give "Blooming Rust" additional energy and sustainability. Very professional recorded RAM-PAGE show here what they have down pat! A treat for all Experimental Metal fans!!!