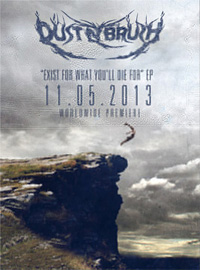 Dust N Brush, the technical death metallers from Siewierz (Poland) have reminded their fans and the whole metal world about their presence, with a new EP titled "Exist for What You'll Die For". The EP is a prelude to the forthcoming second long-play to be released in 2014. The three new songs featured on this EP are a great example of modern technical melodic death metal with progressive influences, for fans of Beyond Creation, Within The Ruins, Veil of Maya, and Archons. The fans of the afore-mentioned should be pleased, when listening to this stuff.
The worldwide release of the EP will take place on 11th May, via band's social web profiles and platforms, such as bandcamp, 8merch, and many more.
The band commented on the release: "All the time we have spent on the producing of this EP was not in vain. In the meantime, we were touring with Vader, Hate, and other bands, which was crucial for the changing of our approach to sound in general, switching more towards pure death metal. The last six months were a huge challenge for us, but nonetheless, we think that we have managed to put out the best effort to date. We are satisfied with the result and we surely cannot wait to read the first reviews. The new songs are brutal, complex, melodic, but also really mature. It is a huge step forward from "Filth of Our Blood", and we predict that fans will have varying opinions about it. Anyway, see you all on tour and at festivals, and remember to let us know what you guys think about the record. In the fall, we are going to stop promoting the EP and focus on our next album. Keep your eyes and ears open (laughs)!"
"Exist for What You'll Die For" was mixed and mastered in IX Studio (Poland), under the supervision of Michal 'Urgul' Barski.