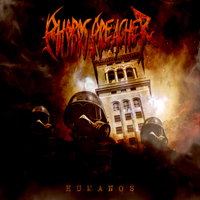 Spanish death metallers PHOBOS PREACHER are announcing their agreement with Italian famous label Buil2Kill Records to release their debut album "Humanos" coming out Worldwide officially on June, 17th.
The band recorded the album at Aggressive Studios in Barcelona by the hand of Pol Luengo and Carlos Leonardo from AGGRESSION.
International distribution by Plastic Head (U.K.), Century Media (U.S.A.) and The Fish Factory for Spain, press office by Nadir Promotion.