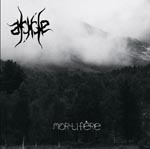 Cylminis – 2013 – France
The Frenchmen ALGIDE are since 2011 on the way on dark musical pathes. They released in March 2013 their EP "Mortifere".
Here is rendered homage to the Black Metal. Pitch-black and filled with infinite sorrow the listener is led in dark musical worlds without hope and light. Typical Black Metal Old School sound frameworks which are presented primordial and raw. Very intense songs develop which are emphatic and go under the skin. ALGIDE doesn't need thereby no high speed. The all in all four songs all move in the mid tempo area which yet reinforce their darkness. The very emotional growls do one last thing in order to reinforce the oppressive atmosphere. The meloic speckles now and then inserted relax the mood a bit without thereby being too melodious. Agony of mind and misanthrophy perfectly implemented in notes. The lyrics generally deal with the self-destruction of the human kind in all its facets. Very ambitious and primordial recorded ALGIDE offer with "Mortifere" a successful piece of Black Metal which has depth and intensity. Check out the EP. It's worth it!!!