First of all, thank you so much for this intie and Hails to Unholy Death Metal's Dynamo.- How's it goin' on by the Immolation side? What're you doin' right now?
Ross Dolan: We have been very busy for the last few months getting the new album written and recorded. The album is being mixed at the moment and we should be all finished up either today or tomorrow. We have been listening to different mixes and have been making adjustments for the last two weeks, so between that, getting the artwork and the layout of the CD sorted out and just our day to day work schedules, it has been non stop.
You finished your Listenable Records days and you're the one of transferred band in Nuclear Blast, as Suffocation and Nile. Tell me something about this record label change. And do you gain some advantages from this change?
We had signed a 3 album deal with Listenable and we had fulfilled our contractual obligation with them, so we decided to shop around and see if there were any other labels interested in working with the band. There were a few actually that were interested, but when we were contacted by Nuclear Blast, we knew this was the move for us. We had a great relationship with Listenable and their staff, and we really felt they did a lot for us in Europe, but we mainly wanted a worldwide deal this time around (instead of splitting it up like we did for the last three records with Listenable handling Europe and Century Media handling the U.S.A.). We feel this is a forward move for us, Nuclear Blast being a label that has supported underground music since before we started as a band, and they have developed themselves into one of the strongest labels in the underground metal movement. It was the right move for us at the right time, and we have nothing but positive words for all that they have done for us already even before the album is done. They have a very professional staff of very cool people, some of whom we have known for years, and they are very excited about working with us and getting the word out there.
The band entered Millbrook Sounds Studios with longtime producer and friend Paul Orofino to record the upcoming album to be released through Nuclear Blast. And How's the recording' process goin' on? Tell me something about this album? When will you release this album? And what do the Immolation fans wait from this album?
We were in Millbrook Sound Studios for two weeks the end of October into the first week of November. Here we completed all the tracking, and then we sent the tracks to Zack Ohren on the West Coast to handle the mixing and mastering. Zack finished up the last week of November and I can say that this is hands down the best sounding Immolation album we have ever recorded. Zack did a phenomenal job in giving the band a more stepped up production while still retaining our sound, and I think everyone will agree with me on this one. We are extremely happy both in the sound and the quality of the material on this album. It is by far our most diverse album, our darkest and our most extreme in a lot of ways, and we feel it is our strongest. The album is entitled "Majesty and Decay" and will be released worldwide on March 9th 2010.
You're the one of New Yorker Death Metalers.And what are the differences of New York Death Metal crew than the others?
Not that much really other than location. There are great bands and fans who are truly dedicated to this music all over the world, and we basically all came from the same roots and have the same passion for extreme metal!!!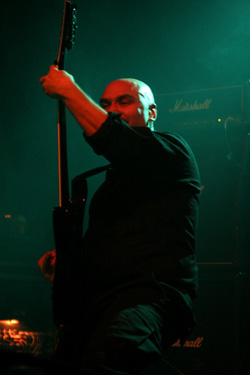 And how did you start this adventure in this ambiance? Was that easy to start or what were the difficulties?
We all got into metal when we were younger, probably our early teens or earlier as in my case. I think for all of us it started with the basics such as Iron Maiden, Judas Priest, Black Sabbath, Dio and bands like this, and it progressively moved into a heavier direction with the introduction of more heavier and extreme metal bands in the mid to late 1980's. We were so passionate about this new more extreme take on heavy metal that we were all inspired to create our own music, and that's what we did. We did it simply because we loved it, it wasn't hard or easy, it was something we wanted to do and we made it happen. We made the time and made it a point to get together a few times every week to rehearse and talk about music. This is what we lived for and one of the few things in life that really absorbed us fully. The main difficulty looking back to that time, was the lack of the internet which made things more difficult to obtain, such as music (demos), and general information. This wasn't a terrible thing because it just made us work harder to seek out new music and to spread our music throughout the underground.
You changed your name "Rigor Mortis" to "Immolation"? And why did you need to change your name?
Well, basically Rigor Mortis was a different band started by our good friend Andrew Sakowitz, and he was the one who basically wrote all the music and lyrics, so when he left the band and I joined, we decided to change the name and start over fresh by writing all new material. So, at this moment Immolation was born and we began writing songs immediately for our first demo, which was released in 1988 and the songs were "Immolation" and "Dawn of Possession".
In the year of '86 you started as a band ,but the first album "Dawn of Possession" was released in '91. What had you been doin' in this period of five years?
Well actually it was Rigor Mortis (N.Y.) that was formed in 1986, Immolation didn't begin until February 1988, so it was actually only three years from our formation until our first album was released. During this time we recorded two demos, one in 1988 and the second in 1989 and shortly after in 1990 we were signed to Roadrunner.
And the debut album, "Down of Possession", was released through the year of 1991. What can you say about this album? Because you announced your name exactly with this album to metal music listeners and the music market and how were the reactions and feedbacks to this album and Immolation?
Well, we had a pretty strong following in the underground scene through tape trading with our demos, so the first album was received really well and did fairly well for us, especially for a first release and one of many, many death metal album released around the same time. We had great responses for this album while touring for the record in 1991/92, and still to this day get many people asking about the first record, so it was and still is a very important release for us.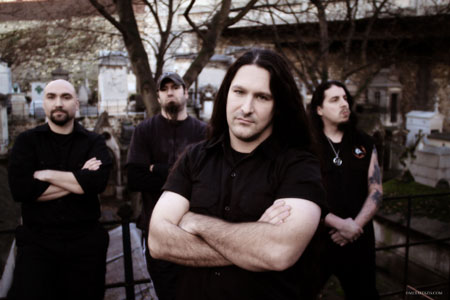 Which bands and styles influenced on you and your music,especially at the times you started career and recorded the first materials? Because you had original techniques and riffs even in the beginning of your career. And in my opinion, your style was a little different than the other Unholy Death Metal Bands and it is still…
We were inspired by lots of bands from that period of bands from the mid 1980's, mainly Possessed, Kreator, Destruction, Voi Vod,Sodom, Celtic Frost, Slayer, early Metallica, Mercyful Fate and Venom. These would have to be our main inspiration. We are also very open minded when it comes to music and like many different types of music, so we have drawn a lot of inspiration from many non-metal types of music as well, which may be a reason why we have a different style, but it makes us unique and we are just happy that people do notice a difference in our approach.
Was Roadrunner Records brought you any benefits to advertise for your first album?
Roadrunner did their best at the time to promote the band with the means they had available. As a band you always feel like the label could do better, but we were a young band and were very naïve to how the industry worked. We realized shortly that you had to work even harder with each release, and that the labels only did so much and the rest was up to you to push and try to move forward with each release.

Later, you were picked up by Metal Blade Records and released three succeeding albums through them. And the first one of them Here in After came in the year '96. We have seen a little difference on your sound and riff style. Tell me something about this label change and musical evolution? Why did you retire from Roadrunner Records?
We felt like our time with Roadrunner was at an end after the first album was released, so we decided to ask them to let us out of our contract, which they did, and we were very happy that it was such an easy process. After a few years, we were approached by Metal Blade and by 1995 we were signed and working on the "Here in After" album. This album was much different than our first because I think it showed more of the true Immolation and a bit less of our influences. We were trying new things with the music and trying to create an identity, and with each album after we got closer and closer to our goal. Plus, I think a big factor was the amount of time that passed between the first and second release. We just naturally evolved as people and musicians, so this would be the main reason for the obvious differences.
After the albums "Failures for Gods" and "Close to a World Below" you have changed your label again but you did a very radical choice to transfer in a new label. This label from France which named Listenable Records. Why did you make this change? What did you have in your mind to make this change?
We were good friends with Laurent from Listenable Records since 1988, so when we left Metal Blade, we immediately called Laurent and asked him if he wanted to work with us in Europe. He was a small label, but he was very dedicated and passionate about the band and the music in general, and we had faith that he would do a great job, which he did, and continued to do right up until we parted ways with him just last year. We feel that our years with Listenable were our best up to this point, the label really believed in the band and helped move the band forward in Europe. We a now very excited to be working with Nuclear Blast, and think the next few years will be our strongest by far.
After this Label change, the darkest, melodic and exactly different Immolation album was seen in the year '05 ,which named "Harnessing Ruin" and this album has shown us a different face of Immolation. And we have observed more different components on your music such as deep crossings and lyrical themes in this album and it was seen about other subjects such as politics. What were the reasons about this change? Was there any effects from your new Label for this change or It could be about your 20th anniversary year?
No, there was never any pressure from any of our labels for us to change our style or musical direction, our progression has been a natural one, and with the "Harnessing Ruin" album, we did intentionally set out to create something a bit different than the ones that came before. We wanted to write the songs a bit more straight forward and stripped down, more to the point and simplified. While doing this, I think we also created our heaviest album up to that point, and we also expanded a bit lyrically as you mentioned. We still had some songs touching on religion, however we also touched on some different subjects that were new to us, such as war, politics and our personal feelings and demons, which in the end made for a much more interesting album lyrically in my opinion.
And in the year '07 you have an EP which named "Hope And Horror" with a bonus DVD. And this DVD was thought as an elusive felicty by Fans. In this DVD we have a chance to watch your performance. Tell me something about this Ep and DVD concert. How were the reacts for this stuff? By the way this concert took in BB King concert hall and it's really interesting detail for a Death Metal band. Isn't it?
Basically, while recording the "Shadows In The Light" album, we decided to write some extra material that we would use for a separate EP release, and the idea for the DVD to include with it was also part of the plan. This was Listenable idea, and we thought it was a great idea, and chose the three songs with this in mind. This is why we included our first ever instrumental with this because we felt this was more appropriate for something different like this. We chose the BB Kings show mainly because it would be our home town New York crowd, and we knew it would be a great crowd with a lot of enthusiasm and excitement making for a great vibe. It is a more intimate setting to see a band perform in, which as a fan I prefer more, so we thought it would give people who never saw us a good idea of what the Immolation live experience was like.
During January and February 2010, Immolation will join in North America Tour as headliner with Nile and others along with Krisiun, Abigail Williams and Dreaming Dead. Let's talk about this Tour. What're you waiting' from this tour?
We are extremely excited about supporting Nile on their upcoming tour since we have been good friends with them for over ten years, and the line up is amazing. Krisiun are long time friends and a band that we have toured with twice before, so we look forward to watching them and sharing the stage with them for the tour as well as the guys and gals in Abigail Williams and Dreaming Dead. We think it is a very strong and diverse package as well, and can't wait to bring it to everyone here in the States!!!
And I would like to ask something about the construction of the band. For example Who's writing' the lyrics? And who're creating' the compositions?
Bob writes all the music, and I usually help when it comes to the arrangements, so I give suggestions and listen to what he presents to me objectively and critically. Once we have an arrangement that we are happy with, we send it to Steve so he can hear the music and rough drums to get a feel for the song, and if he has any issues or suggestions, he will address them. Then we all learn the songs, rehearse them and try to get them studio ready. The lyrics usually don't start until right before we enter the studio, however this time, I had a lot of ideas on concepts I wanted to write about, so I didn't actually get started until we were in the studio. This time around as with the last few records, Bob and I both worked together on the lyrics, so once again we are very happy with the outcome. Steve even helped out in the lyric department this time around giving us some great ideas and material as well.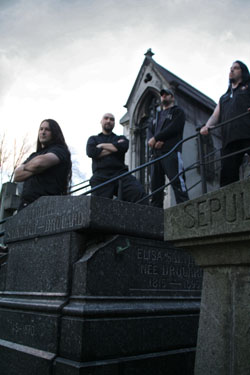 In your music, Drum parts are often written to follow the guitar riffs in a way that is unusual for most death metal band. Is that easy than the other recording' style or is that only your choice?
I wouldn't exactly call it easy, and I'm sure Steve would agree, but I think the way the drums are written and performed for this band is very unique, and actually works with the music and creates that dynamic that is so important for what we do. I think when people hear the new album, they will really appreciate Steve's unique style and will hear how well his style works with our music.
Tell me please what are the essentials of your music? And you're the milestone in Unholy Death Metal exactly. What do you think about your place in Unholy Death Metal and What do you want to say about the additives you have created to Unholy Death Metal genre?
I think the most important thing for us in writing this music is the feeling. This music has a very unique feeling unlike any other genre of music out there. The only thing that comes close to me would be classical, because classical can bring out many different moods and feelings like good death metal can. Our place is a very small one. We are still growing and evolving and contributing our small piece to the bigger picture, but we are just happy to know we are still able to do it and that we are still able to reach people all over the world with our music. We never take any of this for granted and feel very lucky to have been able to do this for over 21 years, and we will continue to write music the way we want to for as long as we are able to..
Robert Vigna is considered to be one of the most talented death metal guitarists and is well known for his complex riffing and wailing solos. What do you want to say his talent and what's the meaning of Robert in Immolation?
I would agree, and I would say in my opinion he is one of the best out there, not only in talent and creativity, but in attitude and the fact that he is very humble. Robert Vigna is Immolation, and there would simply be no Immolation without his talent and style. He has created this style, and we only help him in achieving his ultimate vision. I am fortunate to have been part of the band since the start, so I have seen his progression and seen his passion grow stronger with each release, which is inspiring for me and to Bill and Steve.
And Last questions. The year '11 is your 25th anniversary and the year '12 is the date of Marduk Planet. What do you want to say about this and do you have any plans for 25th anniversary?
Actually 2013 will be our 25th anniversary, and we plan to celebrate it by still being relevant to the world of extreme metal after a quarter of a century!!! If we don't make it, then it's been a great ride and we had fun in the process!!!!!
What we must expect in the near future from Immolation?
Well, once the album is out, we plan to work our way around the globe slowly spreading our music to everyone. We love the live show, and we really can't wait to play the new material live for everyone.
And the last question! What do you want to say the death metal freaks who read this interview?
Just want to thank everyone who has supported us for the last 21 years. You have all made it possible for us to continue creating the music we love to create, so thank you all for your support and die hard loyalty!!!!
Ok thank you so much for this pleasant interview. Congratulations for your next album and hope to see you on your new tour.
Thanks bro!!!! Sorry it took so long, but we have been so caught up with the new record and getting everything in order for the tour………no rest for the wicked, hahaha. Hope you enjoy my answers. Thank you for you support and patience!!!