Crystal Eyes Records is announced the signing of one of the most promising bands in Death Metal "Gloom".
Gloom is a Spanish band from Madrid who plays a dark death metal, dense and gets into the hands of Crystal Eyes Records for the release of his new EP "… Bless you all", that surely will not leave you indifferent.
This work shows the power and aggression that the band has, as the musical evolution, scenic and staff, with darker sounds and a production that perfectly reflects the music. Gloom has a 2007 and a demo LP "Mater Tenebrarum" 2009, both self produced.
For the artwork of this EP have had Juanjo Castellano, professional illustrator known for his work with Death and Black Metal bands in Spain and Europe. The cover of "Bless You All …" accurately reflects the music, something aggressive and dark. The photographic work has been done by the professional photographer Xose Luis Frias.
Recorded, mixed and mastered in DesmoSound Studies (except the drums and bass, recorded in VRS Studio and Coldstone Studio) in 2011.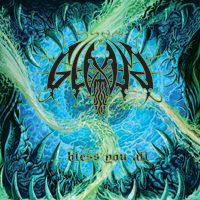 "… Bless you all" will be available next April 9, 2012. Published and distributed by: Crystal Eyes Records
Tracklist:
01. End Of The Wicked
02. Coltan
03. X Way
04. Dark Side Of Desmodromic Pantheon
05. Dies Nefastus
06. Evil Fuels (Re-Recorder 2011)
07. Moebious Syndrome (Re-Recorded 2011)