German death metallers DISBELIEF will release a 20th-anniversary album, "Heal", on May 21 via Massacre Records.The CD will contain eight songs, including three cover versions and a remake of the classic track "Shine".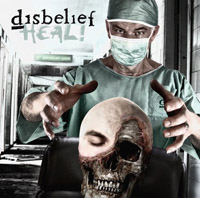 Covers
– KILLING JOKE – "A Love Like Blood"
– KING DIAMOND – "Welcome Home"
– CRIMSON GLORY – "Red Sharks"
Originals
– Certainty Of Reality
– The Eyes of Horror
– The Last Force: Attack!
– Isolation
– Shine (title track of 2002 album)
"Heal" will be released with a bonus DVD containing footage of a complete DISBELIEF show from the Walpurgis Metal Days in 2009.