Swedish melo-death stalwarts Deals Death have announced a new bassist following departure of Fredrik Ljung earlier this year.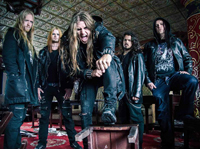 Guitarist Erik Jacobson introduces,
"When we decided to go separate ways with Fredrik Ljung some time ago, we immediately set our focus on finding a replacement. And not just a new bass player but a new member who would fit the shoes of representing Deals Death on all levels. Power, strength and skill. Along with a mighty ambition to take it to the next level and a mind set to fit our own. We could only think of one person.
We give you KAMMO OLAYVAR!
Be prepared to witness some heavy bass lines and a powerful performance from this guy. Born and raised in Sweden and blessed with Hawaiian blood Kammo takes on the role as Deals Deaths bass player."
Introducing himself to Deals Death fans Kammo comments, "I'm really excited to take on the role as the bass player of Deals Death. I feel honoured to be playing with such great musicians and can't wait to deliver some bass tones to these killer riffs. See you all on the road this fall! Kick ass / Kammo.O"
Watch 'Fortified' from the latest Deals Death album 'Elite.'
Earlier this year the band confirmed completion of a third album and follow up to 'Elite' which was released last year via Spinefarm/Universal and hinting that "the fall of 2013 will be interesting… very interesting." Details for the third album other than that it will be released again via Spinefarm/Universal have yet to be revealed. Watch this space.