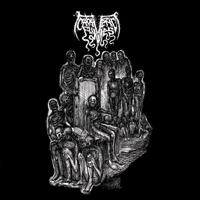 Brought up to existence during the summer 2011, CADAVERIC FUMES is a French Death Metal band that delivers a pure ancient act from the bowels of torment. Mainly influenced by the American and Scandinavian blasphemies from the early 90's, their first demo "Macabre Exaltation" was released by Impious Desecration Records in early october 2012.
This magnificent Demo is now being released on vinyl by BLOOD HARVEST. Limited to 300 copies on Black Vinyl!
Enforced with a fourth member to handle the bass in their brotherhood of madness, the band is preparing their Danish invasion at KillTown Deathfest planned for the twilight of august and smouldering new offsprings as they plunge deeper into the abyss of the tritone tyranny.