Reviews
ZOMBIEFICATION "Procession Through Infestaion"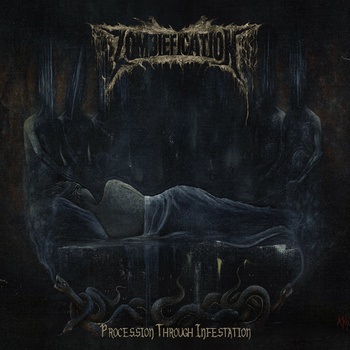 Doomentia Records -2014- Mexico
The Mexicans ZOMBIEFICATION released in September 2014 their opus "Procession Through Infestation". It is released via Doomentia Records.
The guys jump off from the first note on. You can hear Death Metal in the vein of Sweden in the
90-ies. Spiced up with some slower insertions which reflect the bands' versatility. Epic specles now and then interspersed give additional dynamics and freshness which howerver doesn't superimpose the basic tenor. This results in eight songs which sound independent and nevertheless familiar. You can literally feel hardness and hate which play a part in contributing to the fact that you will not forget "Procession Through Infestation" that fast. The listener is abducted into pitch-black, surreal worlds which contain doom and hopelessness within themselves. The emphatic vocals of Mr. Hitchcock are yet the icing on the cake of the production. Very dedicated recorded you can only recommend "Procession Through Infestation" to each Death Metal fan!!!!
8,9/10