Welcome to the sinister pages of Extreminal Magazine,Dmitry!How are you?Is everything okey for you and Katalepsy in Russian warfront of extreme metal mu-sick?
Dmitry – Hi Soner and all readers of Extreminal Mag. Thanks a lot for your interest to KATALEPSY. We had a little rest after summer European tour and now we are absorbed by work with brand new album. It's not so quick as we want but we do not fall into lethargic sleep and move to the aim.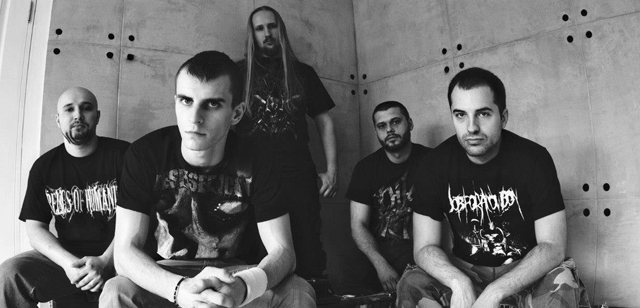 Your bonebreaker groovy brutal death metal album Autopsychosis was released last year,how people and death metal scene reacted your last album?
We were very surprised, but the feedback was awesome. We got more than one hundred reviews in different magazines, webzines and blogs and most of them are positive. We got mails from people all over the world. And this is amazing! But we don't get our heads swalled. We understand that now we have no rights to mistake: we should make a new step forward. That is the reason why we work with new songs so long – we have to be sure in each riff and each note.
First I personally heard Katalepsy in your split album with Fleshrot and Blunt Force Trauma called Triumph of Evilution but later I saw in your bio that you released that split songs in the same title as an E.P.release.Why,when and how did it come up?
This is just a mistake, man. We NEVER had released this EP as well as NEVER even planned to released it. I have checking information about this "release" on www.metal-archives.com – they says it's a "digital release" by SFC Rec., and it's the first time I hear about that, haha!
Actually I had no contact or known any band in 90's from Russia but it changed in early years of 2000's. In the last years,obviously there is a growing scene on an ongoing basis in Russia that I observe.What can you tell us the Russian scene about the past and nowadays?
If you want to hear this story it must be special edition of Extreminal Mag. There were good death metal scene in Russia as all over the world in 90's. I just recommend you to listen to Scrambled Defuncts (followers of Suffocation/Pyrexia) , Merlin (with female growling from Hell), Graveside (inspired by Deicide), Mortem (Moscow twin of Cannibal Corpse) or Necrocannibal (brutal and sick bastards). In the end of 90's and early 2000's was recession of interest to extreme music but after that new bands appearing took place. Those are bands like Fleshbomb, Mind Eclipse, Fetal Decay, Barbarity and, I think I can mention, KATALEPSY. About nowadays I can tell you nothing but internet will do: if you open the browser and enter keywords "Russia" + "death metal" you can find tons of information. In each big city, in small towns and villages you can find bands which playing death metal – our country is indistinctive from others in this way.
How did you contract with Unique Leader records?Is UL supportive for band?
As thousands bands in the world we send promo-packs to labels and the best deal was recieved from mighty Unique Leader Records. Of course we had no doubt even a second, because UL is the trade mark and synonym to "hi-quality death metal". This label was and is home for the bands I like – Decrepit Birth, Gorgasm, Disgorge, Fallujah, Spawn of Possession and many more – it is honor for us to be in this family. And, yes – Erik doing a lot for us: we have a very good promotion and distribution and we are always in contact. This is two-handed business – if you want to reach good result band and label must work together.
Katalepsy was formed in 2003 but there is no band member left in band from the first line up back in days.What is your story behind it?
I played in some local bands, too small to mention and of course I had a lot of practice at home. At that time I made some money as sound engineer and KATALEPSY's guys asked me to help them with live shows. I knew they looked for guitar player and took the risk to play with them. Result you can see and hear – now they don't know how to stop me, haha!
Autopsychosis' album sound and songs' construction are really strong and groovy.How did you form the sound?Can you tell us the recording and writing process?Any tricks you have as a band and you as a guitar player behind this groovy sound?
This album spilt our blood, sweat and tears. We spend a lot of time, money and nerves of sound engineer. About recording process – it was rut drain work and that's all. We are not rock stars or wizards, we doesn't use cocaine or spell on rehearsal room and in studio – we're just usual hardworkers. I can't expose you tricks, because it's a top secret information.
Is touring and giving gigs in Europe and other places hard and having extra troubles as a Russian band?Have you ever toured outside of Russia and are there any new plans for it?
The only trouble is in visas – you feel nervous even if you're law-abiding citizen. We closed our UK-tour last December due problems with visas: we lost a lot of money and time of UK-promoters. It's great that Daniel from Unfathomable Ruination, the organizer of that tour, is understanding man and good friend – he did all for us, but shit happens… We played few tours and single shows in 17 countries, so, we have good experience in shows outside motherland. We played in small clubs and bars and on big open airs and always those were great shows – I can't remember any negative moments. In 2015 we are going to play only few shows in Europe, because we're concentrating on composing and rehearsing of new songs. First of our shows will be on Frankfurt Death Fest at the 7th of March 2015. So, come on, because if you'll miss this show you can live all this year without your dose of KATALEPSY.
In the last years,some mainstream metal bands like Behemoth and Cannibal Corpse have had some troubles in Russia and their gigs were cancelled and the bands deported,for instance Behemoth even were arrested.What things are going on there about it?
I think this is regular things for these bands – they use provocative image, so they know price for it. It's funny, because some people outstand Russia began to crying about lawlessness and violation of rights. Cannibal Corpse are banned in some countries, even in "free and educated" Germany first three albums are prohibited for a long time. Behemoth had a lot of problems after consuming the book by Nergal. Deicide have a lot of problems during all times they played. Benton couldn't vizited UK for 5 years, if I'm not mistaken… KATALEPSY playing during 10 years from East Prussia to Far East and we had no any problems. We had problems with UK visas but we didn't call this situation "lawlessness", "tyranny" or "attempt to democracy".
How is everything going on writing new songs and new album? Any news for Katalepsy?
We're not planning any tours for 2015, only few single shows. All of us have regular jobs, families, most of us are happy parents – I mean we have no enough time to combine composing/rehearsals with long tours. We must choose what is more important and we choose а new album. Master Smerdulak is working with new art for us, we have 3 songs already and few songs in progress.
What things do you like to shout in lyrics?Do you have a special interest in psychological disorders as a concept?
Lyrics for new album continues course of AUTOPSYCHOSIS – dark surrealistic worlds of H.P.Lovecraft, dreams of H.R.Giger and Beksinski, nightmares of forgotten cults. No sexual perversions, no gore, no politics or religions.
Here I have an extra question for Katalepsy except music title.Dmitry,what do you think about Dyatlov Pass incident?Any theory you have about it or something?
I like this story. I think there were military testing area and tourists saw what they didn't have to see. It was the period of Cold War and each suspicious person looked like spy. Especially on the North Ural – cold windy mountains, far away from villages and cities. This place is not for fun – if you were there, you have some deal in this area.
Do you have contacts in Turkish underground?Do you know any bands or favs' from here?On the other hand,what are your favourite albums in last days?By the way,can you advice any bands from Russian scene to our readers and fans?
No, we are not in contact with any bands but of course we know and enjoy music of Cenotaph, Decimation, Burial Invocation… Also I like Radical Noise. I like next bands, who released albums in 2014: Internal Bleeding, Soils of Fate, Behemoth, Abysmal Torment, Decaying Purity, Cerebral Effusion, Disentomb, Devangelic and many more! I really like this kind of music, man – it's to many to mention all albums I like. From Russian bands I recommend you to listen to Fleshbomb, Decaying Breed, Cephalic Impurity and Visceral Disorder. Also don't miss Relics of Humanity from Belarus and Fleshgore from Ukraine – this stuff will kick your ass unmercifully!!
All my questions are done,brother.Thank you for your time and honest answers.What do you want to say to our readers and band's fans to end this interview?
Thanks a lot for your interest to KATALEPSY! One day we'll come to Turkey and you'll know what is when musick bring injuries! Horns up to all sickos in your ancient land! Keep on brutal, support death metal and stay sick!