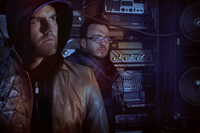 Walk As Chaos, the new extreme progressive metal collaboration from Alan Sacha Laskow (Divinity, Enditol) and Jerrod Maxwell-Lyster (Out of Your Mouth, Autobody) are proud to unleash their new music video in support of their first single 'Impasse'.
Directed by one of Alberta's leading independent music video directors, Doug Cook, the video incorporates various film making techniques like old school stop-motion photography, computer graphic elements mixed with live action along with fantastic set and costume design to bring 'Impasse' to the visual forefront.
"We are super excited about our new music video for "Impasse". Doug Cook (director) went the extra mile and we are proud to say we feel it sticks out as being modern & inventive – just like our music. When we started talking about how to bring the song into the visual realm, Doug decided the backdrop should be a futuristic world made up of lines that had a difficult time connecting with each other, like a maze. He also wanted to put Jerrod and I into situations that showcased our collaboration (singer/engineer) but also the frustration one can be faced with when being at a impasse, whether is be Man vs. Man, Man vs. Tech and Man vs. Nature etc." comments Laskow.