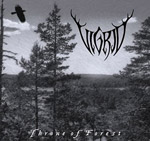 Stygian Crypt Productions – 2009 – Finland
Finnish Folk/Viking Metal band Vigrid was formed in 2003, they released 2 demos and last year they released their first album "Throne of Forest".
Cover is giving away all the secret about the style. This is an album you can hear paganic melodies. General athmosphere is dark and melancholic… Album has songs with moderate tempo. Not an ordinary folk band, if you remove folky things and just concentrate to combing riffs and vocal, you will see black metal. Maybe this style can be called pagan black metal. Keyboard tones are really good. A chilly woman vocal in "Kauniin Koto" is impressive.
I suggest to the ones who wants to hear predatory scream vocal in cold, dark and melancholic athmosphere…
8/10