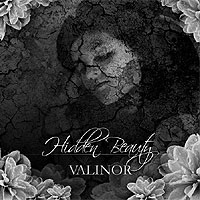 Independent – 2006 -Poland
VALINOR are from Poland. Some time ago they put the cd "Hidden Beauty" on the dark Metal market.
The short intro "Prologue" sounds initially very oriental tinted. It acts only by solemn guitars. The following songs then show the true musical alignment of the band. From now on is Melodic Black Metal the subject! Very symphonic, presented close on the edge of bombast. The riffs are full of harmonies and nevertheless dark. Supported by multi-variant keyboard sounds and forceful bass-lines this results in the sound of VALINOR. In contrast to that are the growls of vocalist Tomasz Domka which know how to assert. The powerful drumming rounds off the general impression without interfering the other musical parts. The all in all nine songs (inclusive prologue and epilogue) all move in the mid tempo area. Here is sowith conscious renounced of senseless highspeed thrashing which emphasizes the melodic character of the production. By the game of tempi you can also hear here calm passages. "Hidden Beauty" thus receives variability and never gets boring or even verbose at any time. Thereby came out a modern Black Metal cd which sounds fresh and not at all outdated. Technical impeccable and dedicated recorded each Black Metal listener should listen to "Hidden Beauty"!!!!
8/10