Reviews
VALEFAR "Perserve Pleasure"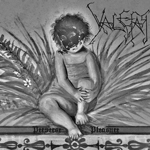 Self Released – 2009 – Italy
Again, I am holding an Italian band's, Valefar's, demo in my hands. Arcanum Inferi's (the band that I made a critic about previously) drummer Frozen also plays in Valefar but this band makes a little different black metal.
The band makes depressive black metal with low tempo. Intro and outro are completely irrevelant to the rest of the demo. The songs are generally monotonous. They use a vocal technique with effects and that fits their genre. Because of their low tempo, it is felt that there is insufficiency in their sound. Bass guitar is hearable enough, they wanted to remove this insufficiency with powerful bass but I think it doesn't completely cover this inadequency.
I am listening this demo when there are clouds in the sky, it makes me depressive. Depressive black metal listeners can have a look at the demo and you can listen to the songs except Forsaken via band's myspace page.
6/10