Reviews
TOTAL ANNIHILATION "Extinction"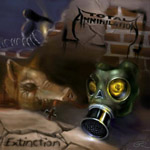 Firefield Records – 2012 – Switzerland
I haven't listened much bands from Switzerland but I heard Total Annihilation's name a lot. I think they've done well promotion. Also I reviewed their first album before. The band formed in 2006 and released a demo, an EP and two full-length albums. Latest album "Extinction" released via Firefield Records.
Total Annihilation is performing thrash/death metal but thrash impact is heavier than death. The band reminds me Destruction and Testament or maybe old Sepultura. Especially guitar solos… They made their sound original with modern touches.
They've done a music for headbangers, really there is no escape from headbang with Total Annihilation. I can recommend this album to thrash metal fans who love their music mixed with melodic death metal.
9/10