Norwegian metal band Claymords has signed a deal with Wormholedeath/Aural Music Group. During October Claymords will travel to Parma in Italy to record the next album with the working title: "SCUM OF THE EARTH". Wormholedeath will unleash the album world-wide through Aural Music Group. The release will take place in early 2013.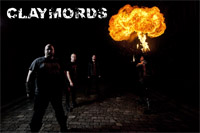 The whole band together stated :
"After considering a couple of offers, WHD seemed to be the best and the most expanding label. With such a professional and caring attitude it seemed like a natural choice for us. The label has a strong network, and that is everything when you're releasing an album worldwide. We in CLAYMORDS, feel that WHD has the right vision that a label needs in these days."
A&R "Worm" stated:
"Wormholdeath is not a money-machine and until the inspiration will lead our label concept we will continue signing adult and experienced bands…Claymords is one of those bands and we rely on them to be part of the new senior roster that doesn't feature "wannabees", or "trendy posers". These guys work really hard and have no stupid ideas in mind, their music is just true … Like their attitude. Moreover they trusted us and we will support in the best possible way their already strong and profitable activity. Watch out for this norwegian combo…They will make another awesome album that will be proudly released through our catalogue. Come on, scum of the earth!"
To celebrate this Claymords are having a party at Norbikers in Oslo, June 29th. Everyone is welcome! (location: Konows gate 69). Before getting into the studio, CLAYMORDS will appear at Hard Anger kick off in Stavanger (Aug 4th @ Folken) and Hard Anger Open Air Metal Festival (Sept 1st @Måbødalen/Eidfjord-
http://hard-anger.com
).