Reviews
THE WAY OF PURITY "Crosscore"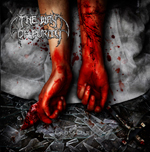 WormHoleDeath – 2010 – Earth
I met The Way of Purity, one of the most interesting band ideologically via Extreminal's review. I got this album as MP3 for a long time, but I waited for the CD to make a better review, this was the right thing to do.
They didn't talk about their countries in the interview too, so I don't know. They are strange people who hide their faces. For more, take a look at the interview. Or wait for a little time, you may hear them.
The Way Of Purity is a concept band and Crosscore is a concept album all the way. Recording and production are great. There's a movie about the band, I don't know when it will be released, but I watched it, it's an odd production, like cult movies.
Band's genre is mixed, and maybe album name emphasises on that. Generally you can say metalcore but in detail, you can feel extreme, technical, deathcore, death metal, black metal etc influences. The ones who like female brutal vocal will love this, there are clean woman vocals too.
There's no need to tell my favourite song, because the band is a favourite for me, I want to see them live on stage. If what I told you attracted your attention, take a deep look at the band, I suggest you to listen!
9/10
"Go on get out
I am not a coward
Go on get out
To love my own enemy
Go on get out
I just do it
Go on get out
I am not a coward
Don't do it"