Reviews
NECROVILE "The Pungency of Carnage"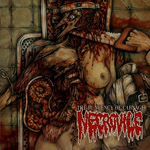 United Guttural Records – 2009 – Romania
Romanian band Necrovile's first album "The Pungency Of Carnage"'s cover is just how I like it, fitting the genre they are making. Band was formed in 2001 and they published this album after a demo and an EP.
Band's style is brutal death metal but based on the other bands who make this style, they use a slower tempo. Vocalist's guttural vocals are good, but the place he put them isn't always good.
Production isn't satisfactory. Compositions' athmosphere and intro sounds (I think from some movies) can reflect lyrics, I find successful on this issue.
In album, there's a video clip of "Rampage in the Crematorium", recorded in Germany Underground Metal Messe 2008. It's a joy to watch them on the stage. Suggested to the ones who like and support underground.
6.5/10