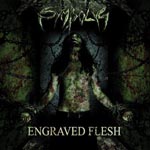 My Kingdom Music – 2009 – Italy
The album, being released in 2008 as self-release, has recently taken its place in markets with My Kingdom Music label. It should have been released as it is, therefore it was not advertized as a new album. You might as well bought it as a sel-release. The first album, which is labeled by the Italian death metal group Symbolyc, is "Engraved Flesh". We rarely see such groups from Italy.
The group is performing European style and a bit epic death metal. Though the trash metal influenced drums give melodic death metal tunes time to time, influential solos are present in the album besides brutal and infernal vocals, hard metal riffes and drums with blasbeats. The production of the album is also high in quality. It fills the ears. You will get the taste of death metal all the way. I have not listened such a tastefull album for a long time. I liked it.
8/10