SG Records announced the release "One More Breath", the second Subliminal Fear's album.
Subliminal Fear is a Melodic Death Metal from Barletta (Italy). The album was recorded at DB Studio by the produced Domenico "Doddo" Murgolo.
According the press release, the band sound is a Melodic Death Metal evolving with new influences.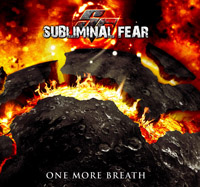 The album will be available next Summer.
Tracklist:
01. Prayers of The Innocent
02. Ready To Fight
03. One More Breath
04. Not In Your Hands
05. Waters OF Solitude
06. Raving Of The Moment
07. From Joy To Agony
08. Becoming Victim
09. Run Away (From This Hate)
10. Immutable Event