Reviews
SOTAJUMALA / DEATHCHAIN "Split"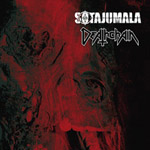 Cobra Records – 2010 – Finland
Cobra Records produced a nice split with two Finnish bands' two songs. This split's most important feature is that two bands covered Iron Maiden songs.
First band Sotajumala was formed in 1998 and released 2 albums. They'll release a new one in May via Cobra Records. This is a good presentation for Sotajumala.
To understand Sotajumala's genre, first song "Sinun Virtesi" is their own composition. They have oldschool death metal bands' sound and vocal, but we may call it a modernized oldschool and technical death metal when it comes to composition.
The other song of this band is an Iron Maiden cover, Prowler. I was suprised while I was listening to the album for the first time and second song started. Band made a good cover, it is good but my personal idea is that: It would be greater if they covered it within their style. This cover has an important feature, Paul Di'Anno, the original vocal of the song sang that cover, so maybe it would be odd if they covered it within death metal 🙂
Second band of the Split is Deathchain. They were formed in 2001 and released 4 albums. They get good reactions.
Their first song is their own composition, "The Crawling Chaos". To tell about the genre of the band, it may be called Death/Thrash metal, but more death metal. Sound of the band is a real death metal sound in brutal vocals. Besides, when we take a look at composition, we can feel the thrash metal.
Deathchain's second song is an Iron Maiden cover too, Purgatory. Cover is really good, but they might make it better if they covered it within their own style, just like Sotajumala. Deathchain played this cover with a different bassist and vocalist than their original ones.
To talk about the vocalists of the bands, I think I wouldn't sing Iron Maiden songs in death metal style too 🙂
Despite I talk average about the Iron Maiden covers, they are really good! It has been long time since I listened to good Iron Maiden covers. Split is 18 minutes long, has 4 songs. I overjoyed it.
9/10