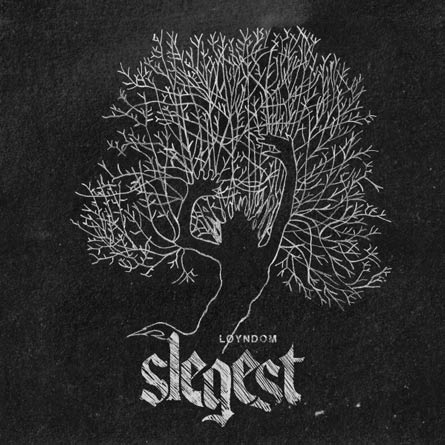 Dark Essence Records – 2013 – Norway
What does a talented musician when he leaves his band? Right. He continues making music as a 1-man project. This happened at Ese, ex-member of the band VREID. He recently published his first solo album named "Loyndom" via Dark Essence Records under the name of SLEGEST.
Here can Ese show which musical talents are hiding in him! A mixture of Black Metal and pure Heavy Metal resounds off my loudspeakers. Spiced with a proper portion BLACK SABBATH thus originates an independent, pitch-black musical mass. Those always move in the mid tempo area. Multi-variant riffs which may also be Doom til halting integrate outstanding in the powerful drumming. Supported by forceful bass-lines which give the production emphasis. The distinctive growls give the main point. All in all eight songs develop which go forwards and have profundity. The listener is taken along in dark worlds which are without hopes and without a way out. Technically adept recorded you can only raise your head to SLEGEST. Here is originated a pearl in the other dark mishmash which is really worth to be listened. But, better listen to "Loyndom" yourselves. It's worth it!!!
8,7/10