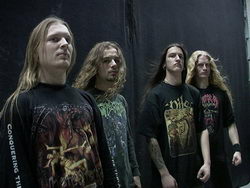 Dutch death metal brutalizers SEVERE TORTURE are due to enter Hertz studios in Poland tomorrow to start the mix of their forthcoming album, "Sworn Vengeance". The follow-up to 2005's "Fall of the Despised" is due for release by Earache on September 10 and is set to be mixed by Hertz in-house producers Wojtek and Slawek Wieslawski.
The Wieslawski brothers have earned their reputation for high-quality death metal productions with releases by DECAPITATED and VADER, among others.
To see a preview of the artwork for the album and for all upcoming news relating to the release, head over to http://www.myspace.com/severetortureswornvengeance
Catch SEVERE TORTURE live this summer at the Mountains Of Death festival, which is being held August 17-18 in Muotathal, Switzerland.
Source:Xtreem Musick