Greetings and welcome to Extreminal Webzine.Please present your band with a few words to those who don't know you ?
Hello brother I am Ralf W. Garcia (Bass/Vocals) and we are REQUIEM from the middle of Europe established in 1997. At the moment we are a three piece Death Metal Band. We had some line up changes in the past, released 5 albums worldwide , played far more than 500 shows and tours with different famous and unfamous bands like Dismember, Lividity, Vader, Belphegor, Vital Remains, DevilDriver, Hypocrisy to name a few. For those of you that are interested in more informations please visit www.myspace.com/requiemdeathmetal. Cheers!
Your last album "Infiltrate…Obliterate…Dominate" was released in 2009.How was it accepted by the fans and the critics ?
Concerning the critics by the media it was really overwhelming. That album was in the top ten of some of the biggest magazines like Rock Hard Germany, Legacy Magazine Germany, Aardschok (NL) and in a lot of online magazines like powermetal.de, bloodchamber.de, stormbringer.at. So I guess wem ade something right. People like that record what was really important for us. It's not understood beeing an underground DM band. Thre are million sof other really talented bands out there. So we are absolutely happy with the great response to that particluar album.
Do you have new songs ready and when can we expect another album from you?
While I write this interview there are already 7 songs ready for our upcoming new album that will be called "Within Darkened Disorder" due to be released in early 2011. I just wrote some new lyrics yesterday fort he title track. We scheduled the recordings in Stage One Studio Germany with producer Andy Classen (Belphegor, Krisiun, Legion Of The Damned and more) for December 2010. So we are really looking forward to these recordings. The first new songs with the new three piece line up.
Who writes the music in REQUIEM? Is there a main composer or you all contribute to the writing process ?
Basically Phil (Guitars) and Reto (Drums) have been the main composers so to say. In the past and at present I developed and wrote my bass lines and made some detailed arrangements within the songs. I focussed at writing all of the lyrics and of course arranging the vocal patterns by now.
What are your lyrics dealing with? What inspires you to write them ?
The topics changed over the years. Meanwhile I concentrate on many subjects from history, philosophy and mysticism whereas the lyrics in the past focussed on reality a lot more. I wrote many lyrics about socially critical things compared to Napalm Death for example. Nowadays I think that my inspirations derive from our own experience of life in the last 10 years. When I was younger the main influence where news reports and of course other bands.
Which one from your all four albums is the most important for you as a band ?
To be precise we released 4 full length albums and an EP so far and regarding your question I really must admit that I don't have an answer at the moment. "Government Denies Knowledge" was our first album for the well known label Massacre Records and caused sensation but coincidental it's the record we'd like to re-record 'cause we'd make a lot of things different nowadays. "Premier Killing League" was a very fast album we wrote in between 2 European tours and released it 11 months after "Government Denies Knowledge". Apart from that it was our first work with producer Andy Classen which was a really great experience. Musically and regarding the songwriting process our last album "Infiltrate…Obliterate…Dominate" ist he most mature so to say. And of course we are looking forward to the new album. And I'd sign erverything to say that these are the best songs we ever wrote although I know that this is a topic all bands say before releasing a new album.
Are you happy with your work with Twilight Vertrieb ? What's the difference between this label and your previous label Massacre ?
You know that's a really extensive topic but to give you the answer first. Yes we are really happy with Twilight. The overall communication between our band and the label is great. They are really standing behing us and our music.
Nowadays the whole music industry has major problems so it's still a struggle for underground bands like us. Massacre gave us the oppurtunity to spread our music to a really large audience worldwide even though there has been far more potential. We are grateful for that. The main difference between these two labels is the manner of communication. So wwe talk a lot to Twilight which is absolutely great concerning opur future plans.
Tell us some funny interesting stories of your band career ? Which one is the concert that you'll never forget ?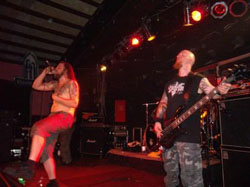 I don't think you wanna know the truth about beeing in an underground band that struggles but ok if you really want me to tell here you go.
There are certain things hat happen on the road while touring different countries that are sometimes unexpected like loosing band and crew members on a highway gas station in the middle of the night and of course the mandatory brimful nightliner toilets that immediately starts to stink like hell.
Conerning the shows there were so many I can think of that I cannot chose just one. The Netherlands wer always a pleasure to play. Some festivals are still in my mind when when we had the chance to support some of Death Metal biggest bands like Obituary an Morbid Angel. Amy bet he tour with Vader and Belphegor throughout te UK and the Netherlands was one thing we won't forget. It was a really professional organized leg of our 2007 tour. And of course I must mention the tour with Vital Remains in 2005 and with our longtime friends from Dismember in 2006. That was awesome too.
Who are the bands/musicians that inspired you to start playing music and still influence you today ?
Well there are a lot of from different musical genre. For me as a bass player the style of Cliff Burton had a huge impact on me when I was a kid. Although I was influenced by the playing of the late John Entwhistle (The Who) and of course from the really fantastic work of Steve DiGiorgio. I guess these are the persons that inspired and influenced a lot of musicians that grew up in the late 70s and 80s like me.
So as a kid I started out with the classical metal bands like Iron Maiden and Judas Priest when growing up in Germany. After that the big wave of Thrash came along with Slayer, Exodus, Anthrax, Testament, Kreator and Destruction and others. And of course I was hit by the first Death Metal wave back in the late 80s/early 90s with the likes of Possessed, Bolt Thrower and the first Death album for example.
I guess this is still the music that has a spezial meaning to me musically and regarding playing techniques.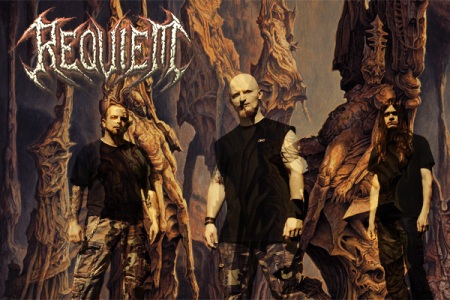 How is the scene in Switzerland ? Can you recommend any new and promising bands from your country ?
There are a lot of bands in Switzerland compared to the small size of this country but most bands do not have the stamina to really work hard. And of course most younger bands are influenced by US bands and modern sounds like Metalcore and Deathcore. So there is nothing spezial or new nowadays. There are some really good young live bands but I wouldn't go as far as recommending someone.
We have a lot of friends in this scene like Punish, Gurd, Cataract and Disparaged but these are the bandst hat started when we did. So they aren't new to the average metal audience.
Which one is the last album that you have listened ? Any new albums that impressed you this year ?

Oh wow difficult question 'cause I listened to a lot of stuff lately. I just had a listen to some of my old original vinyl records like Suicidal Tendencies, D.R.I. , Cryptic Slaughter, Carcass and some others. I like a lot of different sounds like Belphegor, Grand Magus, Black Label Society, Annotations Of An Autopsy, Obituary, DevilDriver and so on. The album that would impress me most would be a new Bolt Thrower record and I really hope that they'll start writing new songs again.
I'm also looking forward to the new Malevolent Creation album. I hope that they've written another killer album like "The Will To Kill".
What are you doing when you are not busy with REQUIEM? Are you working anything or you are just concentrated on the band ?
As you might know you cannot make a living from playing in an underground Death Metal Band although we are all concentrate our time and potential 1000% on the band. So we all have normal jobs. I'm working sometimes for a local promoter, writing for some magazines, doing bass/guitar tech jobs for other bands or just playing the bartender in some local clubs. In real life I used to be a social worker which is a pain in the ass job regarding all the bad things you'll see in reality but it helped to express all that impact in our music besides that.
Your final words for the readers of Extreminal Webzine ?
Thank you very much for your support and of course this interview. Hope to see you sometimes on a festival or tour in the future.
Check out or myspace page www.myspace.com/requiemdeathmetal and our new record "Within Darkened Disorder" that will be out worldwide in February/March 2011. We also invite all your readers to attend a show of us and to party with us afterwards.
Cheers & Greetz. – Ralf & REQUIEM