Reviews
DEFEATED SANITY "Chapters of Repugnance"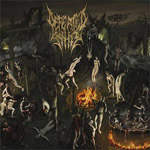 Willowtip Records – 2010 – Germany
AAAAAAAAAGGGGGHHHHHHHHHHHHHHH!!!! Murder is now on my cd rom. Many of the death metal listeners must have known German Defeated Sanity founded in 90's. The band released their third full lenght slaughter in previous months and has just published best of compilation yesterday.
Defeated Sanity is one of the unique names when technical death metal is the case. I can't find technical death metal bands' brutality high generally, but their musicalities cannot be argued. Compared, the thing I loved most about the band is that both their brutality and musicality are on their peak. Thus, everything is possible on this battlefield.
When tight, harsh, technical, grim drums; guitars doing massacres ; basses taking your internal organs out; deadly brutal-guttural vocals and qualified recording and production come together, Chapters of Repugnance comes out. No melodic things, there is a soulless massacre.
There is a 36*36 cm kickass album cover in the bootleg, I can hang it on my wall if I act pitilessly. The album cover is where we can see the songs' brutality.
Completely above my expectations, Chapters of Repugnance is now one of the precious parts of my archive. I strongly recommend it for technical death metal fans.
10/10