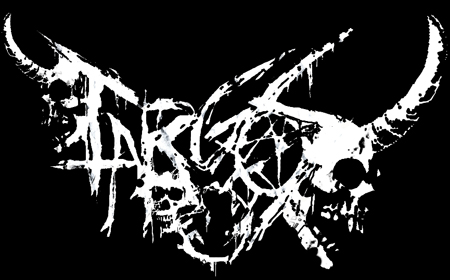 Hello Otargos. First of all, I have to state that, it was unbelievable to make that interview with you. Because you're one of the Black Metal giants that appeared in France. Thanks a lot for accepting our interview request, and I'm beginning with the first question. What is Otargos doing nowadays?
Dagoth: Hi! thank you for those compliments!
So, what are we doing? Well, we are preparing to promote the new album "NO GOD NO SATAN" and the upcoming tour supporting WATAIN across Europe.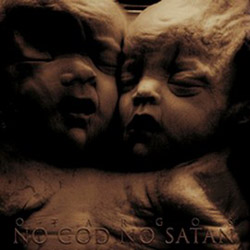 As one who listened to The album "No God, No Satan" that will be released on 30 August, I can say that you're getting ready to attack again. Can I want you to tell me about "No God, No Satan"? Can you mention the production period?
Since the "Fuck God-Disease Process" we work the same way. I composed all alone at home when the tracks are ready I present them to the rest of the band and we talk about them. After that, I send the tabs, and each one works separately on his respective part. We make some 'pre prod' versions to prepare a maximum of the real studio recording. Concerning the main theme of the album … all is in the title!
You made a video for a song called "Cloning the Divine". As I know, that's your first professional video. How did you decide on that video?
We wanted to offer a REAL music video, personally, I'm too often disappointed when I look at a black metal video clip. Most of the time they are ridiculous or without any interest. Fortunately, some bands understand what is professionalism and estheticism! I talk about bands such as BEHEMOTH.
The original story is from XXX and me. We contacted Federico Anastasi to realise the video, we worked together on the screenplay. After that, he planned all shootings, found all the staff and cast all actors. It was a real interesting experience. The result is just amazing, exactly what we wanted to do.
I'm saying video, but it's more like a short film. Are you planning to make new videos as it a continuation?
Yes, we hope to do another one in future. We have some ideas but nothing really concrete. But it's sure we will work again with F. Anastasi. We have some projects to complete before. And it's also a matter of money.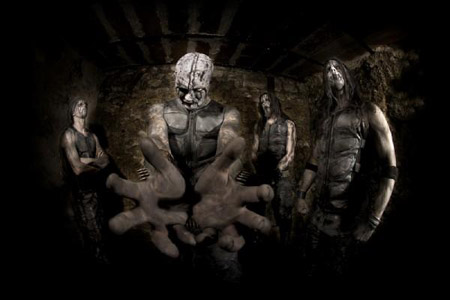 Yes, there is no God, but Satan? Can we say that your manifest is completely this? Can you explain a little?
You can't admit "GOD" without "SATAN" or "SATAN" without "GOD", in fact, it's just the two faces of the same entity, fanciful of course, only spawned by fear and cowardice from our foolish mind. There's no God, there's no Satan. I don't believe in fairy tales anymore.
Can you tell us about the evolution period of Otargos, which appeared as the by-project of Dagoth? What is the reason to use the name Otargos? What's its meaning?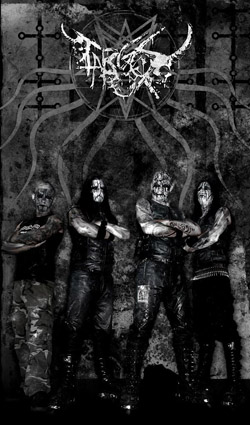 Effectively, OTARGOS was previously my solo project… a long time ago! when at this time the band I had, with XXX, stopped I decided to make OTARGOS a real band, and XXX naturally joined me. We started together to work intensely. Concerning the name of the band it comes from the old greek language, inspired by a word meaning "goat". At this time we were younger and fans of basic black metal folklore … I'm sure you know what I mean! Nota, XXX and I realised the original logo!
How is the relations between band members? Are you meeting often outside the band?
XXX is my best and oldest friend, we both live in Paris, so we often have parties with our mutual friends. ASTAROTH and THYR still live in Bordeaux, I leave it one year ago and move to Paris. In fact, we meet all 4 most of the time when we play concerts cause of the distance. I think it's good to not be together 24/24 and 365 days per year.
Is there a turning point album that makes you Otargos?
The music and philosophy of OTARGOS evolved with members and especially me as I have always been the main composer and author. Otherwise, it's sure "Fuck God-Disease Process" was a major point in the story of OTARGOS. With this album we forsake completely the basic way of black metal, forsake the classical imagery, and the things linked to "satanism" or those kinds of fancy shit. The music also became more personal than ever.
What do you think about the Black metal bands which are using the keyboard? Must Black metal stay pure, raw and cult?
Black metal is an ambience, not a list of instruments we are allowed or not to use! it's the same shit that people who are releasing albums with a poor fucking crappy sound and poor production just pretend to be "true". that's pathetic. They are neglecting former bands of BM was 16 aged without any real technical talent or great record studio access, that's the reason old stuff sounds like this. All music need evolution, that's the way to explore the new musical horizon.
Will Otargos extend the effects of the virus that it's spreading in the music, or will it continue on the same line?
We don't search for following anything, I compose only what I want, I don't fucking care about what other bands are doing. The only line I'm following is MINE!
How are the concerts? Is there a special country that you want to play in?
We are preparing the upcoming tour with WATAIN and DESTROYER 666 from 24/09 to 31/10 across Europe, I think those shows will be pure destruction!
I hope one day to go an play in the USA!
I want to ask about the merch. Tanga's seem to arouse interest so much that they adorn your profile photo on Myspace. Haha. I don't know how is it in general but you seem to dwell upon it too much. And the main question: Why tanga?
Hahaha! NO, merch for girls is not a principal preoccupation for us, it's just more appreciable to look at a sexy chick than a barbed fat metalhead ! and it's cool to see the logo of your own band on pussies! More seriously, we realise merch is for girls because generally, BM bands make stuff principally for men, we wanted to honour our female fans!
Your lyrics contain "Quantum Physics" and "Multidimensional Chaos" themes. Can you explain the disease that you want to spread through your songs? Especially, your last album's cover work is very interesting. What was the main thought that you wanted to tell?
I use physics in my lyrics principally in KINETIC ZERO, a bit in FGDP and implicitly in NO GOD NO SATAN. I am a scientist, I put religions and the concept of "GOD" face of science. Atom is non-servant. We are there only via a cause of atomic random, no divinely created "life". I am passionate about cosmology theories. Those themes were too hard and complicated to be assimilated and understood in KINETIC ZERO, so I decided to use less this part of my lyrical inspirations. Since FGDP I focused lyrics more on cartesian topics, I focused lyrics more around "flesh". The other main topic, as you certainly understood, is religion and religiosity. The artwork of NGNS is principally linked to the track CLONING THE DIVINE.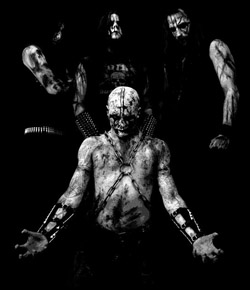 Finally the last question. What do the words below express for you, or what they don't express?
-Life?
NOTHING
-Chaos?
THE BEGINNING OF ALL
-Humanity or humans?
VIRUS
-Black Metal?
OTARGOS
-Fans?
ENERGY
-Religion?
HOAX
We can consider this question out of the interview, but I want to ask. What's the possibility of coming to Turkey for Otargos? What are your conditions and desires?
It was with pleasure to come to Turkey. We received sometimes some fest propositions. We are no fucking rockstars we are simple requirements. I can't give you more details there, but for more information don't hesitate to contact us via myspace or email!
Thanx to you and Extreminal Web'zine for this interview!
Enjoy the new album NO GOD NO SATAN.
Cheerz to our fans from Turkey!
GOD IS JUST A FUCKING HOAX