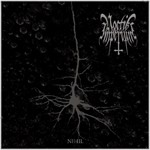 Abyss Records – 2010 – Venezuela
Actually, you can discover great bands from these countries. Before I took a look at the band's info, I was thinking how good is the drummer. I was suprised when I saw Nicholas Barker on the info. It is suprising that a Venezuelan band worked with Barker…
The album isn't so good in the name of black metal, but it is very good in the name of music. This is a technical and very fast album. Actually, in our days, there are some trends getting more popular and one of those is old-school influented(thrash/punk/rock'n roll) black metal, and death metal / tecnical death metal influented blackened death metal.
Album is very successful, it hits the audience with the technical, speedy and impressive instrument abilities… There are 2 live songs in the album too. They recorded it so good that I thought those were from the studio too. Maze of Torment (Morbid Angel) cover is played very good too. But I think that they need to think about their vocalist, that seems worse than their quality.
At last, I congratulate Abyss Records, they are rising on the scene, and presented good bands to the audience.
7.5/10