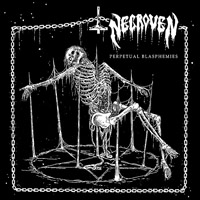 Metalhit.com // Metal Maniacs, in collaboration with Spain's NECROVEN, have released the band's demos in the form of "Perpetual Blasphemies," a six-track assault of uncompromising, mid-paced underground death metal. No frills or other bullshit, this is straight forward brutal death metal that is both memorable and raw.
Following on the heels of the band's debut CD, "Worship of Humiliation" on Spain's Momento Mori record label, "Perpetual Blasphemies" will make an excellent accompaniment showcasing the talents of the band's sole member.
"Perpetual Blasphemies" features cover artwork by Mark Riddick and comes packaged in a 6-panel ecowallet. The album is available now for pre-order and will be available globally on CD and Digital formats in mid-January 2013.